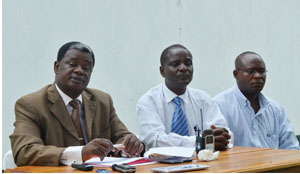 Republican President Michael Sata has appointed former UPND Livingstone Member of Parliament Reverend Howard Sikwela as Permanent Secretary in the Ministry of Local Government and Housing.
Reverend Sikwela has replaced Dr. Chileshe Mulenga who has been transferred to Eastern province in the same capacity.
Speaking to Journalists after his appointment at State House this morning, Reverend Sikwela said it was an honor to be accorded such an opportunity to serve as permanent secretary and has assured the nation that he will not fail in his duties.
Reverend Sikwela says he will ensure that he works closely with the people in the development of the Ministry as well as the country at large.
He adds that those who thought it was the end of his prominence when he left parliament have been put to shame because President Sata has seen potential in him.
Speaking during the swearing in ceremony, President Sata urged Reverend Sikwela not to let him down but remain focused in his duties.
The Head of State says he does not expect Reverend Sikwela to disappoint him but deliver accordingly.