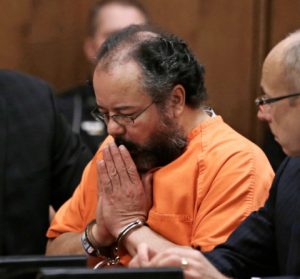 Ariel Castro, the Cleveland man sentenced last month to life in prisonfor holding three women captive in his home for a decade, was found hanging in his prison cell on Tuesday night after apparently committing suicide, officials said. He was later declared dead at the hospital.
Mr. Castro, 53, was found hanging in his cell at the Correctional Reception Center in Orient, Ohio, at 9:20 p.m., JoEllen Smith, a spokeswoman for the Ohio Department of Rehabilitation and Correction, said in an e-mailed statement. Mr. Castro was housed in a cell by himself and a guard was required to check on him every 30 minutes at staggered intervals, the statement said. He was transported to Ohio State University Wexner Medical Center where he was pronounced dead.
His death seemed the final act in a story that has transfixed the country since May, when neighbors, after hearing screams coming from Castro's Cleveland home, broke through the door and discovered the women.
Mr. Castro later pleaded guilty to 937 counts including rape and kidnapping.
It was not immediately clear how Mr. Castro was able to hang himself. The Ohio Department of Corrections statement said a review of the incident was under way.
The women were kidnapped between 2002 and 2004. All were abducted in the vicinity of Mr. Castro's home at 2207 Seymour Avenue, and all were acquaintances of Mr. Castro's children.
The victims vanished seemingly without a trace. Then, in May, one of the women, Amanda Berry, who had not been seen since she left her job at a local Burger King on April 21, 2003, suddenly appeared at the front door of the house along with a young child and screamed: "I need help! I need help! I have been kidnapped for 10 years!"
Several neighbors came to her aid, kicking in the front door and calling 911. When the police arrived they discovered two other women: Gina DeJesus, who disappeared while walking home from a city middle school in 2004, and Michelle Knight, who vanished at age 20 in 2002.
All three had been sexually abused and were confined to two rooms on the second floor of Mr. Castro's home. Mr. Castro had sealed the windows and covered them with thick curtains. He fed the women one meal a day and forced them to use plastic toilets in their rooms, the authorities said. Sometimes the women were chained.
Mr. Castro fathered at least one child with his victims. A 6-year-old girl, born to Ms. Berry, was rescued along with her.
All this went on while Mr. Castro lived a life that to friends, family and even his own children appeared normal. He was friendly with neighbors and played bass with several Latin bands. He would even attend vigils for the missing girls.
At his sentencing on Aug. 1, Mr. Castro denied that he had been violent or had sexually abused the women. He claimed that whatever sex went on in the house was consensual. He said that he was not evil or violent, but that he was a victim of sexual abuse as a child and had become addicted to pornography.
"People are trying to portray me as a monster and I'm not a monster, I'm just sick," he said.