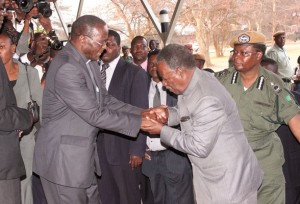 MERDADO Cardinal Mazombwe, the first indigenous Zambian cardinal who died last Thursday at the age of 81, was yesterday buried at a sombre ceremony in the Pope Square grounds in Lusaka.
President Sata has described Cardinal Mazombwe as a man of rare wisdom, who led an exemplary life.
Thousands of people from all walks of life witnessed the burial of the Catholic Cleric who succumbed to cancer last week.
Mourners watched sorrowfully as the cream white coffin carrying Cardinal Mazombwe's remains was lowered into the ground after a moving requiem mass at the Cathedral of the Child Jesus.
President Sata said in a speech read on his behalf by Minister of Finance Alexander Chikwanda that he is saddened by the untimely death of Cardinal Mazombwe.
Mr Sata said Cardinal Mazombwe's death has cast a dark cloud on Zambia because he was a man whose priestly zeal, authority and fidelity to the gospel were appreciated by multitudes and united the country.
"He touched many lives in many ways. He was a source of strengthen, inspiration and moral courage for the many people across the denominational line.
"Indeed, this is one loss too many, a loss that makes our hearts feel so empty, our bodies numb and our spirits extremely low. The feeling of defeat is written all over the faces present here," he said.
Mr Sata said Cardinal Mazombwe was among the many devoted clergymen who provided spiritual leadership at defining points in the history of the country, such as during the political transition in 1991 when the Church played a critical role to ensure that the country held together and was ushered peacefully into multi-party politics.
He said the peaceful transition has placed Zambia in a permanent spot as a shining example of a thriving democracy.
"The late Cardinal Mazombwe contributed immensely to the growth of the Church in general and the Catholic Church in particular, both in terms of the spiritual welfare of the people and infrastructural growth of the church," President Sata observed.
Earlier, John Cardinal Njue, the Archbishop of Nairobi, Kenya, described Cardinal Mazombwe as a great man of God who sacrificed his entire life to serve the poor and marginalised in society.
"Cardinal Mazombwe was a great leader and man of God whom we will continue to remember," he said.
Archbishop of Lusaka Telesphore Mpundu described Cardinal Mazombwe as a great man of God who fought very hard to serve the people.
Chairperson of the regional conference of the Association member Episcopal Conference in Eastern Africa Tarcizio Ziyaye said Cardinal Mazombwe's death was a blow not only to the Catholic community but the entire nation as a whole.
And Zambia Episcopal Conference (ZEC) president Ignatius Chama urged all Zambians to strive to leave a legacy that future generations will remember.
Family representative Dominic Banda commended President Sata and everyone who helped during the funeral of Cardinal Mazombwe.
On November 30, 2011, Emeritus Archbishop of Lusaka Mazombwe was named as Zambia's first indigenous Cardinal at a public consistory held in St Peter's Basilica in the Vatican, Italy.
Cardinal Mazombwe held several senior positions in the local and regional church, including that of ZEC president.
Among others who attended the burial were ministers of Commerce Emmanuel Chenda, Labour and Social Security (Fackson Shamenda), Health (Joseph Kasonde), Justice (Wynter Kabimba) and opposition leaders, including UPND president Hakainde Hichilema, National Restoration Party's Elias Chipimo and former Chief Justice Ernest Sakala.