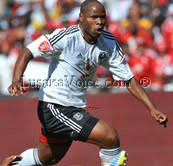 STRIKER Collins Mbesuma insists he would join the Chipolopolo training camp in Johannesburg on Sept 1st  despite his South African club Orlando Pirates claiming he would be out for six weeks due to injury.
Mbesuma said in an interview at the weekend that he was ready to face Ghana in a crucial Brazil 2014 FIFA World Cup qualifier and was not bothered by news that the injury would rule him out of the match set for this Friday in Kumasi.
Mbesuma, who was in Zambia to attend his late father Francis Kajiya's funeral, said he was game for Ghana.
"I am joining camp on Monday. I want to play in the Ghana game but I'll let the medical team at the national team make a decision but I feel like I can play," said the forceful burly striker, whose father died last Wednesday.
Mbesuma sustained the injury in Pirates match against SuperSport United in the MTN8 quarter-final match just over a fortnight ago, an injury which has kept him out of two CAF Champions League matches against Zamalek.
Apart from ruling him out for a minimum six weeks, Pirates went a step further to say that the former Roan United forward needs to lose some weight and that Mbesuma has already shed off two kilogrammes since he was put on the programme.
The Chipolopolo medical team has insisted on having Mbesuma in camp to access him following Pirates claim that the player would be out for six to nine weeks.
Meanwhile, Football Association of Zambia (FAZ) vice-president Boniface Mwamelo will lead the advance party that leaves for Ghana today to prepare base for the Chipolopolo.
Mwamelo and committee member Pivoty Simwanza will be heading to Ghana today to ensure that everything was in place before the Chipolopolo jet into Kumasi later in the week.
In an interview yesterday, Mwamelo said the mission was to ensure all transport arrangements from Accra to Kumasi for the 2012 African champions were in order including accommodation, training facilities and other logistics.
He said the advance team would also make other arrangements for the Chipolopolo fans who would be trooping to Kumasi this week.
At the team's training camp in Johannesburg, the South Africa legion of Kennedy Mweene, Davies Nkausu, Joseph Musonda and Mukuka Mulenga were due to arrive at the Milpark base yesterday.
Other players called up for the Ghana assignment are expected to jet into Johannesburg today after fulfilling their respective club obligations.