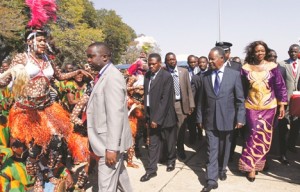 THE Tourism Council of Zambia (TCZ) says hosting of the United Nations World Tourism Organisation (UNWTO) general assembly has improved Zambia's benchmark on the world map.
Zambia is optimistic that the just-ended 20th UNWTO general assembly, which it co-hosted with Zimbabwe from August 24 to 29, will have both short and long term benefits for its tourism industry.
TCZ chairperson Felix Mulenga said stakeholders in the tourism sector should avoid missing such important forums as this would affect the performance of the tourism sector.
He said the meeting is a good opportunity for stakeholders in the tourism industry to further promote tourism investments and boost tourist arrivals entering the country.
"People should take time to participate at such forums which help to market the tourism industry. Tourism is a serious industry, we should keep on participating in a lot of activities to keep Zambia on the world market," he said.
Mr Mulenga said Zambia has created about 900 tourism ambassadors who through the general assembly will help advertise Zambia when they go back to their respective countries.
He said travel meetings help in showcasing hidden splendour of a country that the world has never seen before.