In Australia, access to education, food, water and health services is often taken for granted.
The Basham family of Mount Compass now see their lives in a different light after Zambian farmer Inonge Mubanga Samboko visited their home and dairy farm, as part of a rural study scholarship to Australia.
Inonge was in Australia for four weeks earlier this year and lived on the Basham's dairy farm for four nights, during which she became very close to the family.
Inonge's trip was sponsored by Richard Fewster, president of the Royal Agricultural and Horticultural Society of South Australia, AgStewardship Australia, the RAHS and Senator Anne Ruston.
It resulted from a chance meeting with Mr Fewster at the Royal Agricultural Society of the Commonwealth Conference in Zambia.
"It was an opportunity she had not believed possible," Kate Basham revealed. Inonge, a successful farmer, hand milks her 10 cows to supply milk to her village and to its ante-natal clinic, at which she volunteers weekly.
It was at the Basham dairy farm that she used a milking machine for the first time and learnt to make yoghurt, thus extending the shelf life of her milk, given the lack of refrigeration.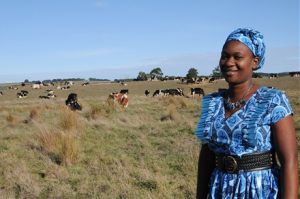 The life expectancy in Zambia is 54 years of age, mainly due to AIDS and lack of medical facilities.
"On a visit to the local pharmacy for the purchase of two thermometers, one for the ante-natal clinic and one for her home, Inonge explained that they were only available at the city hospital," Kate said.
"She also left with a stack of brochures with previously inaccessible information about various medical conditions."
In Zambia, a country ravaged by AIDS, poverty, poor diet and lack of education and opportunity, Inonge began year one when she was 10 years old.
The walk to and from school was 30 kilometres for children living in remote villages.
By the age of 14, Inonge, unable to continue her schooling, began to teach herself English by listening to cassette tapes sent from the United Kingdom. She now teaches her two children and niece English and sees education as the key to changing lives in Zambia.
Her three-year-old daughter attends the local preschool and her son, eight, the local primary school.
Her niece, who lost both parents to AIDS when she was nine, is now 17. She recently completed year 12 and hopes to go to college.
Against all odds, Inonge and her husband have built a farming and agricultural business, slowly growing and experimenting until gaining experience and knowledge of what enterprises might be successful and benefit her village.
Her husband works and stays in the city, while Inonge runs the farm and cares for the children. Lacking any modern facilities, the labour intensity of farming in Zambia would be startling to any western experience.
A gift of a small pig was built into a piggery, which now includes 24 breeding sows.
The chance to purchase dairy animals at a giveaway price from a former government
minister may have left the family without enough food for several months, but Inonge saw the health benefits of an emerging market for dairy products in Zambia.
She will eventually build from her 10 dairy cows.
With new skills gained from her study tour of Australia and her recently purchased secondhand milking machine, Inonge hopes to concentrate the business into a 300 cow dairy farm, employing 50 local people.
She has also established a small banana plantation of 900 plants.
Recently a charity provided water filters for homes in her village, making the bore water safe to drink.
David, Kate, Annabelle and Evie Basham welcomed Inonge into their home and, in a very short time, into their hearts.
"Inonge spoke at Annabelle's kindergarten and Evie's class, telling stories about how children in her village make their own games by binding plastics together to make a soccer ball and using big rubber bands as skipping ropes," Kate said.
"Coming from land-locked Zambia, Inonge soaked up the experience when she was taken to Horseshoe Bay.
"Immediately taking her shoes off and paddling in the water, she said it was an experience she wouldn't be able to explain to her children.
"Inonge doesn't realise the huge effect she has had on many people in Australia who feel very lucky to have met her.
"Meeting Inonge, hearing her story and becoming her friend has been a life-changing experience for our family."
Inonge returned to her home with a range of different experiences, knowledge, skills, books and contacts that she can continue to seek assistance from. The benefits will be far reaching in her community.
"It is amazing how the small things in life we take for granted meant so much to Inonge," Kate said with a smile.
For her young daughter, Inonge took home to Zambia the gift of a fairy costume, complete with wings, and the education to improve the community she lives in.