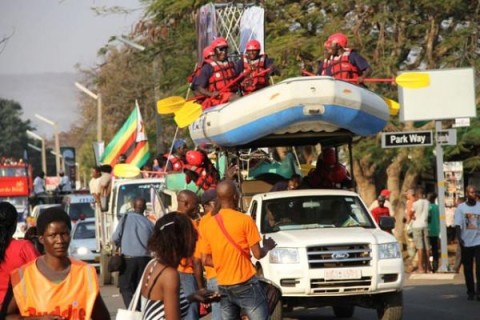 AFRICA has something to smile about in that the continent, apart from growing fast economically, will be expecting to receive a record 134 million international tourists by 2030.
As United Nations World Tourism Organisation (UNWTO) secretary general Taleb Rifai has said, this makes the future of tourism in Africa bright and "the sector is on its way to being recognised as one of the pillars of Africa's growth and development".
There are bad news and good news for Zambia in these projected tourist arrivals.
The good news is that a small portion of some of these tourist arrivals will find their way into Zambia and leave some amount of foreign currency in country.
But the bad side, which we bemoan, is that Zambia's inflow of tourists from these arrivals will only be paltry because of various factors such as inadequate bed space.
Since 2011 Zambia knew that it was going to co-host the UNWTO general assembly but come 2013, when it was time to hold the event, Livingstone has only 750 bed spaces and yet Victoria Falls town has 1,000.
So we know where most of the money from the 4,000 delegates that came for the general assembly has gone and it is not in Zambia but the other side of the border, where there is more bed space.
Therefore, even as we write about 134 million people expected in Africa by 2030, we must be looking at our bed space, air travel and visa issues so that we can start competing with Kenya, Zimbabwe and South Africa, who have been attracting more visitors than Zambia.
Recent research findings by the Policy Monitoring and Research Centre (PMRC) showed that Zimbabwe's tourism contributed 8.6 per cent to gross domestic product compared to Zambia's, which only contributes 2.3 to the GDP.
Zimbabwe generates about US$800 million accounting for 8.6 per cent compared to Zambia's US$200 million representing 2.3 per cent showing that despite both countries being blessed with tourism attractions such as wildlife, game parks and water falls plus rich cultural heritages, performance varies widely.
This is why we hope Zambia has learnt lessons from hosting this general assembly, which could only come back to Africa after a decade.
With fluctuating copper prices, there is an evident need to increase tourism investments and activities so that Zambia can earn more revenue from tourism in the event that copper prices fall significantly.
Zambian businesses need to invest more in building world-class hotels and lodges so that we can increase capacity to host more tourists in future and be able to compete.
There is need for local investors to be empowered so that they can invest more in the hospitality industry and be able to compete apart from ensuring that the country has more bed space.
No doubt that committee which was organising the successful general assembly did a commendable job while government pumped in a lot of money to help improve the face of Livingstone and this is very commendable.
Hosting this grand event is probably the best thing to have happened to Livingstone.
It is therefore important that the hype that has rocked the city this week is maintained by organising events such as culture festivals, food fares, sports galas and other international events so that economic activity is increased in the tourist capital.
Tourism is one of the fastest growing industries in the world and investing in it can earn Zambia millions in foreign currency but for now, let us build on the lessons learnt from hosting the UNWTO general assembly, which ends tomorrow.