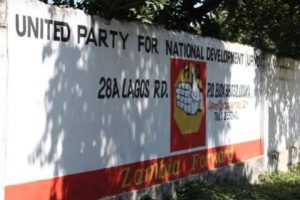 The opposition United Party for National Development (UPND) has resolved not to notify the Police in future whenever it intends to hold public protests in the country.
The UPND's resolve follows the continued refusal by the Zambia Police Service to grant permission for the opposition to hold public demonstrations with the latest being the one which was scheduled to take place on Wednesday but was deferred to today Friday, August 23rd.
The planned demonstration was against Acting Chief Justice Lombe Chibesakunda.
Addressing a media briefing in Lusaka today, UPND Deputy Secretary General Kuchunga Simusamba says, his party will now hold its protests randomly and spontaneously in the different locations of the cities and towns of the country.
Mr. Simusamba notes that during these random and spontaneous protests, his party will however use its own marshals to police the events in order to prevent any damage to private property and the likelihood of infringing other people's rights.
He has also disclosed that the UPND will use its own intelligence communication system to relay information of the details about the said protests to its members as well as the media.