By Kevin Ritchie (Kevin Ritchie is deputy editor of The Star.)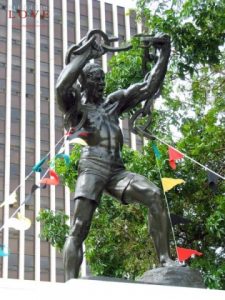 It's a nation of contradictions, much like our own, but if history has taught Zambians anything, it's moving on, writes Kevin Ritchie.
Lusaka – There's a statue of a man downtown. His manacled hands are outstretched as he rips the links of a chain asunder.
Titled Freedom, it's a symbol both of Zambia's journey out of colonialism and its role helping South African, Namibian and Zimbabwean liberation movements escape at the height of the Cold War in Africa.
The principled stand exacted a heavy cost.
Raids by the Rhodesian army and air force into Zambian territory were fleeting compared to the damage wrought on the economy through sanctions – and then president Kenneth Kaunda's decision to close the borders – and an aggressive policy of "Zambianisation" or African socialism. Zambians too were often their worst enemy. Cynics claimed the statue proved that Zambians would destroy anything – irrespective how little they had.
The next 40 years would be just as unkind – especially when the copper market crashed. Zambia was a basket case, a quintessential failed state, said the sages.
Today, if you type Lusaka into Google or any other search engine and select images, you will be faced with pictures of extreme poverty and incredible filth. And yet it's being heralded as one of the fastest developing cities in the region.
Kenneth Kaunda International Airport reinforces both views instantaneously.
Similar in size and layout to East London airport, the reality owes more to scenes from The Last King of Scotland, from the bored customs officials on arrival, to the chaotic check-in procedures on departure. And yet, the little Airtel cellular shop can get a BlackBerry up and running with a fully functional BlackBerry Internet Service in minutes – aeons faster than their South African counterparts.
The road into Lusaka from the airport is first-rate too, unlike the road from Livingstone airport, the country's tourism hub, where tar is a euphemism.
The kwacha has changed too. At one stage, the currency was going the way of Zimbabwe's dollar. Nobody changed money, the exchange rate just induced a splitting headache and in any case rands, pula and dollars were all accepted, and indeed preferred by retailers. Introduced in 1968, amid the heady days of independence to replace the British sterling, at K2 to the pound and K1.2 to $1, by early last year, the kwacha had plummeted to K5 120 to $1.
On January 1, the Zambian government revalued the currency, lopping off three zeroes. Now it will cost you almost R2 to buy a kwacha. It's great for currency conversions, but misleading too – fuel costs K9.19, which seems incredibly cheap until you realise it's more than a third more than we're paying in South Africa. Likewise a 2 litre bottle of Coke at the Spar down the road will set you back almost R24.
The thing though is you can actually get all of this in the first place – at any price.
Down Lusaka's Great East Road, which runs into the CBD itself, lies the Arcades, a mix of shops and entertainment that wouldn't be out of place in Joburg's northern suburbs. There's a Ster-Kinekor, an Ocean Basket, a Mike's Kitchen, a Wimpy, all holding up the different points of the complex, with a Protea Hotel at the back.
Less than 2km further down is Manda Hill Mall, a shopping centre that could quite easily have been lifted out of The Glen in the south of Joburg, anchored by Mr Price Home, Woolworths and Shoprite.
It wasn't always like this. By the mid-70s, people were more accustomed to the gaping maw of empty shelves in shops. Kaunda was admired as a peacekeeper and for winning his country back for his people. He clung to power for 27 years before overseeing a decade of hopelessness, hunger and joblessness. Ousted in 1991, Kaunda's departure heralded a new era of democracy with elections every five years and the government being voted out twice.
President Michael Sata was elected in September 2011 on a ticket of getting the country to work, rooting out corruption, cutting red tape and making it easier for foreign companies to invest. It seems to be paying off. The Minister of Commerce, Trade and Industry, Robert Sichinga, writes in the foreword of this year's Zambian Yellow Pages that the country's riding a 13-year wave of positive economic growth. Inflation is down from 30 percent in 2000 to single digits, with the economy forecast to grow at 8.3 percent for this year. The government is forging ahead with a range of reforms, from abolishing the death penalty to devolving political power to local councils.
For Zambia's high commissioner to South Africa, Muyeba Chikonde, the change can be attributed in part to the renewed international investment in the copper industry, but mostly to the country's political leadership.
"Chiluba introduced privatisation, Mwanawasa declared war on corruption, President Banda wasn't as successful as either, but President Sata has overseen unprecedented development with ambitious plans to transform Zambia from a landlocked to land-linked country.
"Sata was elected on a pro-poor ticket so there have been massive infrastructure projects creating jobs in the construction of roads, rail and energy, while stopping capital flight from the mining sector, diversifying the economy and revaluing the currency. He's a visionary, a strong leader, with the political will to fight against corruption which erodes the social fabric of any country," says Chikonde.
A lot has been done, but there's still a lot of work to be done. There might have been a change in government, but the president's picture still occupies pride of place from hotel receptions to shops, just as it did in Kaunda's heyday 35 years ago.
The contradictions jump out down the Great East Road. World Vision Zambia, the famine relief agency, is bracketed by advertisement boards for top-end estate agencies like Chas Everitt and Pam Golding. The smog from wood-burning braziers burns your eyes and catches your throat. The main road is beautifully surfaced, but the railings on the 5m-high road bridge that crosses the main railway lines running north and south through the capital are not just broken, some of them are gone.
Pedestrians walking home from the city centre have to cross this bridge as the road chokes in a traffic thrombosis that seems to begin at 3.30pm and last beyond 6pm. Others don't bother but just blithely walk home down the railway tracks that stretch from Livingstone in the south to the Copperbelt in the north.
Cranes dot the skyline at the far end of Great East Road, but towards the CBD, the other side of Lusaka winks from the side, litter and rubbish on the banks of dongas marking the high-water mark of the last rainy season, while untarred roads lead off the pristine main routes into less fashionable suburbs.
The South African influence is everywhere and increasing by the day. The Protea hotel group, which already has five properties in Zambia and two in Lusaka, is doubling its existing hotel on the aptly named Thabo Mbeki Street, by building a 100-room annex. But South Africans aren't the only foreigners – there's the traditional Indian presence from small shopkeepers to doctors and lawyers, and a serious Chinese one too. There are Chinese shops, health centres, doctors, acupuncturists and even The Golden Bridge Hotel, complete with a bespoke Chinese travel agency. The Chinese aren't that new to Zambia. They came in and built the critically important Tazara rail line in the 70s from the Copperbelt to Dar es Salaam.
Zambians seem to pray a lot, just like us. In fact, there are 140 listed churches in Lusaka alone, a third more than the listed branches of every bank or moneylender in the capital. Like us, they are troubled by impotence and small penises, judging by the pasted adverts at the taxi stops. But there's a spring in the air too.
In South Africa, Football Friday was launched to capitalise on the spontaneous spirit engendered by the 2010 World Cup. In Lusaka, there's no need for a special day to wear the national colours. Every third or fourth person, from waitress to street hawker and even office worker, seems to be a Chipolopolo fan. Coach Hervé Renard broods out of the flyleaf of the Yellow Pages, promising "the secret behind my white shirt" as he extols the virtues of Boom washing powder.
In the street, Lazarus is hawking knock-off team jerseys. There's a star embroidered above the national team badge. "That's for the Africa Cup of Nations. You remember, we won it last year."
In 1993, almost the entire team was wiped out in a Zambian air force crash on their way to a World Cup qualifier in Senegal. The people who were left mourned and then picked up the pieces and rebuilt from scratch.
Much the same is happening in Lusaka today.
The growing pains of Zambian democracy:
100 000 years ago: Some of the earliest evidence of homo sapiens in Zambia.
800CE: Bantu-speaking people arrive.
1 000CE: Evidence of Arab and Swahili traders.
1855: Scottish explorer David Livingstone "discovers" and names Victoria Falls.
1888: Cecil John Rhodes obtains mining concessions from Barotse Paramount Chief Litunga.
1895: Major copper deposits are discovered along the Kafue River.
1911: North Eastern and North Western Rhodesia merge into Northern Rhodesia.
1924: Britain takes over administration.
1953: The Federation of Rhodesia and Nyasaland is established.
1964: Zambia becomes independent with Kenneth Kaunda as its first president.
1968: An oil pipeline is built between Ndola and Dar es Salaam.
1975: Tazara railway line is opened.
1990: Food riots.
1991: Kaunda is ousted in elections by trade unionist Frederick Chiluba.
2001: Levy Mwanawasa becomes president.
2006: Mwanawasa is re-elected.
2008: Vice-president Rupiah Banda takes over after Mwanawasa's death in office and wins the election three months later.
2011: Michael Sata beats Banda to become president.
* Kevin Ritchie is deputy editor of The Star.
The Star
MORE ON [SOURCE]