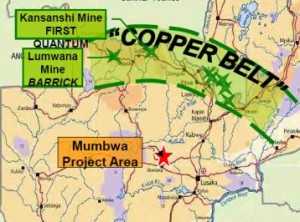 Blackthorn Resources (ASX: BTR) has received the Mumbwa large-scale prospecting licence (8589-HQ-LPL) in Zambia from BHP Billiton (ASX: BHP) and has submitted an application to renew it for a seventh year.
The company also intends to apply for conversion of the prospecting licence to a Mining Licence at a later date.
"We are very pleased that the Mumbwa licence has now been successfully transferred to Blackthorn Resources (Zambia) Limited," managing director Scott Lowe said.
"The company enjoys a positive reputation with the Zambian Government having recently been granted renewal of some other licences without the need to relinquish ground.
"The Mumbwa licence has been successfully renewed on two previous occasions and we are confident that the application meets the requirements for renewal of the licence for a seventh year."
Mumbwa was initially granted in November 2007.
In Zambia, large-scale prospecting licences are able to be renewed twice for a total of three 2-year periods. A seventh year is also allowable with approval from the Director of Geological Survey.
The company had recently intersected its best ever drill result at Kitumba – part of Mumbwa, with infill drilling returning an intercept of 243 metres at 5% copper from 208 metres.
Remaining results from the infill drilling, which has been completed, will be released soon and will be used for an updated mineral resource to be released later this year.
Mumbwa covers a 250 square kilometre area in west central Zambia.
MORE ON [SOURCE]