THE keenly-awaited 2014 African Nations Championship (CHAN) last round, first leg qualifier between Zimbabwe and Zambia is finally on this afternoon as the two teams clash in another battle of the Zambezi at Rufaro Stadium in Harare.
The match should have been played last Sunday at the same venue but it was called off at the last minute following the non-arrival of Cameroonian match officials in Harare.
Referee Aurelien Juenkou and his assistants Fuanta Joseph Lambi, Elvis Noupue and Christopher Nde missed the flight to Harare from Nairobi and consequently the match was rescheduled for today.
With the referees now in place, the focus is now on the clash between the neighbouring countries either side of the Zambezi River, vying for a place at the 2014 CHAN finals in South Africa.
The Chipolopolo, who minted a bronze medal at the inaugural CHAN finals in Ivory Coast in 2009, will arrive to Rufaro Stadium to find a different Warriors side from the one they beat 2-0 in the revived COSAFA Castle Senior Challenge Cup final on July 20 at Levy Mwanawasa Stadium in Ndola.
Zimbabwe coach Ian 'Dibango' Gorowa has made a number of changes to the team that his 63-year-old predecessor Klaus Dieter Pagels fielded in the COSAFA Cup final in Ndola.
Gorowa, 41, prefers veteran goalkeeper Tafadzwa Dube, Peter Moyo, Milton Ncube and Nelson Maziwisa to Pagels' favourite goalkeeper Maxwell Nyamupanedengu, Nicholas Guyo and Last Chibwiro.
Maziwisa netted a brace with Ncube contributing the other goal in Zimbabwe's 3-0 away victory over Mauritius in the first round, first leg in Port Louis three weeks ago.
This grudge Zambezi derby provides Gorowa with the biggest test since taking over from Pagels as his Zambian counterpart Herve Renard has retained all players from his last month's triumphant COSAFA squad.
After playing out to a 1-1 draw against Senegal in an international friendly on Wednesday night in Paris, Renard will be looking to a positive first leg result to ease the pressure in next Saturday's decisive return match in Ndola.
Zambia assistant coach Masautso Mwale, who took charge of the Chipolopolo in Lusaka while Renard was with the main team in Paris, has declared war against the Warriors.
"The boys are all fired-up, ready and in good spirits for the game. There are no injury worries, so it is a fully fit squad. The coming of the other players who went to France will also help boost the players' morale," Mwale said.
Renard is expected to partner Evans Kangwa with towering Festus Mbewe upfront to get Zambia the much-needed goals as the misfiring Nchanga Rangers forward Bornwell Mwape could be confined on the bench.
Mbewe and Kangwa contributed a goal each in Zambia's 2-0 victory over Botswana two weeks ago in the competition's first round, return leg in Ndola.
Renard's options upfront are Mwape and Moses Phiri.
He has, however, been hit by the unavailability of injured influential midfielder Mukuka Mulenga who sustained an injury in Zambia's 2-0 win over Botswana and his place has been taken by Zanaco's Rodrick Kabwe.
The combative Alex Ng'onga, who missed the return leg against Botswana through suspension, is likely to start ahead of nimble-footed Bruce Musakanya on the right wing.  Kabwe could be assigned to supply crosses from the left wing.
The energetic Kondwani Mtonga and Sydney Kalume will be tasked to dictate play in the midfield just in front of central defenders Bronson Chama and Christopher Munthali.
The fullback roles should once again fall on Jimmy Chisenga on the right and Fackson Kapumbu on the opposite flank.  Both are full of energy and have a knack for attacking forays, but that may not be necessary today as Zambia seeks to primarily keep Zimbabwe in check.
In goal the ever-improving Danny Munyao is expected to constantly be on his toes in the face of Zimbabwean goal-poachers Maziwisa, Ncube and Ndoro.
On the other hand, Gorowa will take his chances by fielding players he reckons have the pedigree to give Zimbabwe the bragging rights as kings of the Zambezi.
"It is a crucial match and we are not approaching it with our heads down. We are actually confident that we can beat Zambia," said Gorowa, whose team was beaten by the same scoreline in a friendly match on April 28 in Lusaka.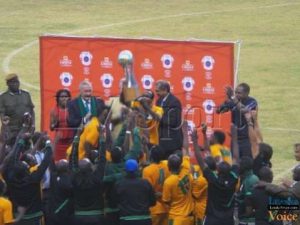 Zambia's last two visits to Zimbabwe ended in defeats and this should give the Zimbabweans the confidence to chalk another win.
Zambia's losses were a 1-3 in the 2009 COSAFA Cup final and a 0-2 loss in an international friendly in their build-up to the 2012 Africa Cup of Nations finals.
Gorowa will be without injured defender Augustine Mbara but has available veteran goalkeeper Tafadzwa Dube as well as defenders Eric Chipeta and Patson Jaure.
Maziwisa and Tendai Ndoro will lead the attack for the Warriors with skipper Masimba Mambare and Oscar Machapa anchoring the midfield.
Gorowa also has Charles Sibanda, Hardlife Zvirekwi, Ali Sadiki, Simba Sithole and Ocean Mushure to consider in the game plan.
To qualify for this phase, Zambia beat Botswana 3-1 on aggregate while Zimbabwe trounced Mauritius 4-1 after two legs.
Zambia is chasing for her second appearance at CHAN finals while the Warriors are gunning for a third straight appearance.
Probable line-ups:
Zimbabwe: Tafadzwa Dube,Hardlife Zvirekwi, Ocean Mushure,Eric Chipeta,Peter Moyo,Masimba Mambare, Devon Chafa, Charles Sibanda,Milton Ncube, Nicholas Maziwisa,Tendai Ndoro.
Zambia: Danny Munyao, Jimmy Chisenga, Fackson Kapumbu, Bronson Chama, Christopher Munthali, Kondwani Mtonga, Sydney Kalume, Alex Ng'onga, Festus Mbewe, Evans Kangwa, Rodrick Kabwe
2013 COSAFA CUP FINAL – VIDEO  –  First Half
[embedplusvideo height="360″ width="640″ editlink="http://bit.ly/1494PKy" standard="http://www.youtube.com/v/hscYA41FvXs?fs=1&hd=1″ vars="ytid=hscYA41FvXs&width=640&height=360&start=&stop=&rs=w&hd=1&autoplay=1&react=1&chapters=&notes=" id="ep1857″ /]