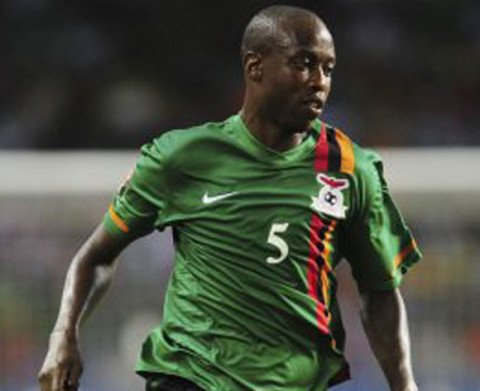 Zambia midfielder Rainford Kalaba and defender Hichani Himoonde sustained muscle cramp and hamstring injuries respectively during last Wednesday's international friendly against Senegal in Paris.
Team doctor Joseph kabungo said in an interview from Harare yesterday that he expects kalaba to be back in action soon while Himoonde will be out for a week.
Kabungo said he will monitor the recovery of the two players through the medical team at Democratic Republic of Congo side TP Mazembe.
He said the two players are still in coach Herve Renard's plans for next month's crucial 2014 Brazil World Cup qualifier against Ghana.
Kabungo said the heavy pitch at Saint Leu contributed to Kalaba's injury.
"He (Kalaba) was playing for the first time after recovering from an injury hence having a cramp muscle," Kabungo said.
Zambia drew 1-1 with Senegal.
Kabungo said there is no need to worry as the two players will be available for the September 6 match in Kumasi.
Zambia has to beat Ghana to qualify to the last round of the World Cup qualifiers while the Black Stars only need a draw.
2013 COSAFA CUP FINAL – VIDEO  –  First Half
[embedplusvideo height="360″ width="640″ editlink="http://bit.ly/1494PKy" standard="http://www.youtube.com/v/hscYA41FvXs?fs=1&hd=1″ vars="ytid=hscYA41FvXs&width=640&height=360&start=&stop=&rs=w&hd=1&autoplay=1&react=1&chapters=&notes=" id="ep1857″ /]