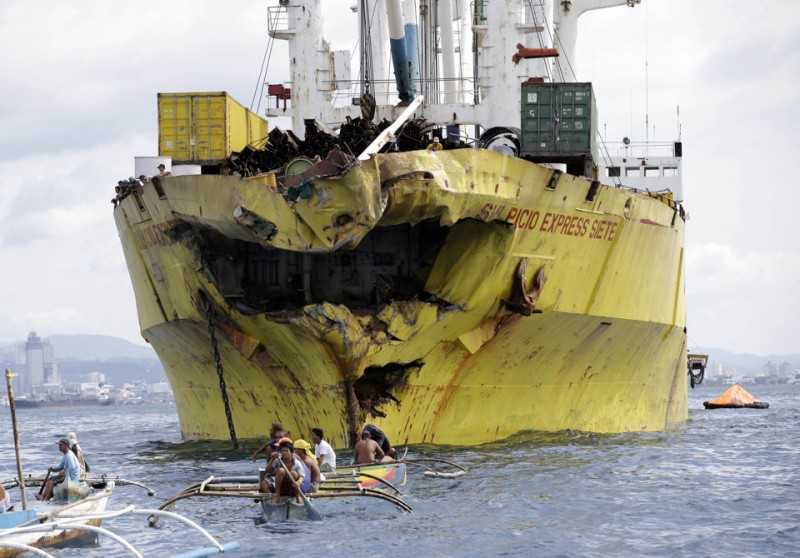 Divers combed through a sunken ferry Saturday to retrieve the bodies of more than 200 people missing from an overnight collision with a cargo vessel near the central Philippine port of Cebu that sent passengers jumping into the ocean and leaving many others trapped. At least 28 were confirmed dead and hundreds rescued.
The captain of the ferry MV Thomas Aquinas, which was approaching the port late Friday, ordered the ship abandoned when it began listing and then sank just minutes after collision with the MV Sulpicio Express, coast guard deputy chief Rear Adm. Luis Tuason said.
The ferry carried 752 passengers, including children and infants, and 118 crew. The number is higher than the 841 earlier reported by ferry owner 2Go, Tuason said.
He said that 213 are still missing, some of them possibly trapped inside the vessel that sank in waters about 33 meters (100 feet) deep off Talisay city in Cebu province, about 570 kilometers (350 miles) south of Manila.
Twenty-eight people, including children, were confirmed dead and 629 passengers and crew had been rescued.
Tuason said that navy divers recovered at least four more bodies from the underwater wreck early Saturday. Reporters at the site, about two kilometers (1.25 miles) from shore, saw the bodies coated with fuel and oil that spilled from the ferry.
"There could be more bodies there, but there were ropes inside that our divers could get entangled in," Tuason said.
He said that the coast guard will send more divers with deep-water equipment to help retrieve bodies.
In a statement, 2Go said the ferry "was reportedly hit" by the cargo vessel "resulting in major damage that led to its sinking." An investigation will begin after the rescue operation, the coast guard said.
Danny Palmero, a former fisherman, said he was with friends who responded to the ferry's distress call and rescued seven people on their motorized outrigger canoe.