RAP Star Slap-D and his XYZ crew thrilled patrons of Lusaka's Kabwata East-Point to the max with his new single 'RATSA' last Saturday.
Opening the midnight show were XYZ's new and upcoming artists who got the crowd pumped with a raucous 30-minute set of their own work.
Each of the crew members had his own style when it came to outfit and rap style, but collectively, the group played their music with funky musical dance flow of rap influences and delivered an impressive and pleasingly boisterous show.
The venue was set ablaze with revellers dancing to the 'new kids' tunes and no corner was left empty as the crowd was determined to party  the night away.
Soon afterward, Slap-D bounced on stage and sent the joint to the brink of hysteria, clouds of patrons wafted up to the balcony level of the stage as they welcomed him with open arms and bouncing limbs.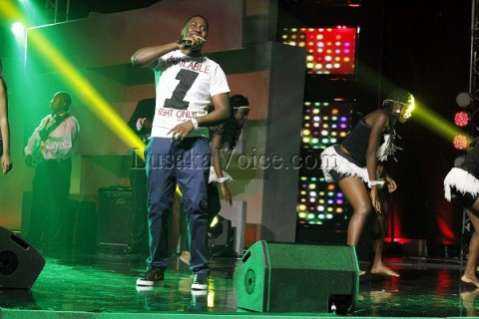 The show was finally in full motion and turned out to be an impromptu celebration of adult life with a kid's attitude.
After a crowd-pleasing performance Slap-D introduced his 2013 frantically sung new tune RATSA that sent patrons wild at the nightspot.
His outward persona was the perfect personification of his rap ability. His delivery was aggressive, fervent and skillful and his lyrics were crafty, smart and incredibly amusing to yell out.
What makes Slap-D such an outstanding performer is his infectious humour. He's the dude who knows exactly what it takes to cheer up the crowd.
His performance gets the crowd chanting as he makes jokes about rappers who offload music that boasts about 'fictitious' lifestyles.
East Point has been providing party lovers with shows that are notably down-to-earth and interactive as they are less restrictions by the bar management towards patrons who want to interact with music performers.
Each show provides a chance for courageous patrons to display their wares and talents on stage alongside artistes.
Last Saturday night's show provided proof that the relationship between East Point management and patron is respectably perfect.
The downside a was an incident where the police apprehended a couple for locking their 2-year-old child in the car for more than four hours as they stopped over to catch a glimpse of Slap-D's performance.
By CHOOLWE HIMAAMBO – Zambia Daily Mail