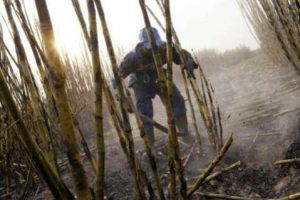 ZAMBIA Sugar Plc shareholders have urged the company to embark on the development of new local cane varieties to save foreign exchange being spent on imports.
One of the shareholders, Zakeyo Mfune said developing local Zambian varieties would save the company the money spent on imports and other taxes associated with imports.
"The company pays a lot in terms of taxes associated with imports that is why there is need to team up and come up with local Zambian varieties," Mr Mfune said in an interview in Mazabuka.
Mr Mfune said the company should invest in research aimed at coming up with new varieties that could suit the local environment.
He added that the company has made a lot of improvements in the recent past, especially in terms of mechanisation of farming which he said was going to increase the production of sugar and other products.
But Zambia Sugar operation director Marc Poussen said it was not easy to come up with the variety that could suit the climatic conditions in the area.
Mr Poussen said there were a lot of factors that needed to be considered such as, disease resistance, yield and other factors.
He said most of the varieties were imported from countries like Malawi, South Africa and that, the company was working on developing local varieties.
"It is not easy to come up with local varieties that can suit the scientific conditions but it is a good ideal which the company is considering," Mr Poussen said.
Meanwhile, Zambia Sugar Mazabuka area manager Kayemba Muyepa said the mechanisation of cane planting has reduced labour costs by 50 per cent.
Mr Muyepa said most of the planting and fertiliser application used to be done by hand but that, the company has introduced mechanised application of fertiliser.
"This has reduced the cost of production by half and of-course, the handling procedures because the firm has contracted a company to handle most of the things like fertiliser procurements," Mr Muyepa said.