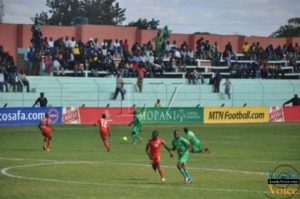 AFTER ejecting Botswana, Zambia coach Herve Renard says the Chipolopolo have now set their eyes on the final round of the African Nations Championship (CHAN) qualifier against Zimbabwe, who are tipped to eliminate Mauritius when they meet in Harare today.
And Botswana coach Stanley Tshosane blamed his team's exit on Swaziland referee Simanga Nhleku, whom he accused of being biased against his team in yesterday's match, which Zambia won 2-0 at Levy Mwanawasa Stadium to qualify to the next round on a 3-1 aggregate score.
Zambia got the victory through second half goals by Festus Mbewe with a looping header and Evans Kangwa with a tap in at the far post of a Mukuka Mulenga cross.
Renard said at a post-match briefing yesterday that his team is determined to qualify for the CHAN final tournament to be hosted by South Africa in January and will prepare adequately for the Warriors.
Zimbabwe are favoured to progress to the final round of the CHAN qualifiers having defeated Mauritius 3-0 away in Port Louis last weekend.
Renard expects a tough and different encounter against the Warriors of Zimbabwe but said the Chipolopolo will be ready for the challenge.
"We played Zimbabwe in the final of COSAFA Senior Challenge this year and we beat them. We played them even before that but it will be a difficult match," Renard said.
Zambia beat Zimbabwe 2-0 in the COSAFA final last month and triumphed by the same margin in a friendly earlier.
He said Zambia will do its best to book the ticket to the finals because it is important for Chipolopolo to go to South Africa.
Renard was happy with the team's performance yesterday, especially in the second half.
"We told the boys in the dressing room at half time that there was no pace and we were losing the balls too much and we changed in the second half," he said.
Renard said that for a team that was assembled three months ago, it has done extremely well.
"It is interesting to stay with these boys we got together three months ago and the boys are doing very well. They played very well and I am happy," he said.
And Tshosane blamed referee Nhleku for the Zebras' defeat to Zambia.
He said the Swazi denied his team a clear penalty in the first half when Zambia skipper Bronson Chama handled in the box and instead of pointing to the spot, he waved play on.
He claimed Evans Kangwa scored from an offside position but the referee ignored it.
"I don't like talking about officials but unfortunately he was not fair today. He denied us a penalty, he allowed a goal from offside and he sent off one of the most disciplined players. I didn't see exactly what my player did but sometimes you have to be lenient.
"We want referees to be fair but unfortunately, whenever our brothers from Swaziland are officiating our games, we always suffer," Tshosane complained.
He said the referee also gave advantage to Zambia whenever a player was fouled but he never did the same with Botswana.
He, however, congratulated Zambia for progressing to the final round of the competition.
He said Botswana did not play well in the second half, especially in the midfield where they were outnumbered by Zambia but they recovered in the second half and stretched Zambia.
"We knew when we were coming that it was not going to be easy away but we tried to prepare our boys and they did well," he said.
Zambia will play the winners between Zimbabwe and Mauritius in the final round next weekend.