AFTER chalking a vital draw in the first leg a week ago, Zambia are perched in an advantageous position to cruise to the second round of the African Nations Championship (CHAN) when they host Botswana in this reverse fixture in Ndola today.
With the scores at 1-1, the Chipolopolo are enjoying an away goal advantage going into this match set for Levy Mwanawasa Stadium while Botswana need an outright victory to sail through.
After today's 90 minutes, the second round pairings will be known with Zambians eager to set up a perennial battle of the Zambezi against Zimbabwe who are carrying a healthy 3-0 lead into this weekend's home qualifier against Mauritius.
A scoring draw of more than one goal will spell disaster for Zambia but if the match ends 0-0 without any outright victor, the Chipolopolo qualify to the second round.
But the Zebras cannot be written off so easily, as coach Stanley Tshosane has indicated, because he has the desire of playing at the CHAN finals in South Africa in January 2014.
Zambia, the newly crowned Council of Southern Africa Football Associations (COSAFA) Castle Cup champions, are the hurdle Botswana face.
Tshosane said: "It will depend on the day.  I just believe we get to Saturday [today] and give Zambia good game."
After digesting the draw, in which Botswana conceded late in the game, Tshosane and his men have moved on and want to fight back as they hunt to make progress in the competition.
"We are now looking forward to doing better in this competition.  Our intention was to come here with a win [after the first leg].  We wanted to use the home advantage but unfortunately [we drew]and we accepted the result," he said.
The Zebra squad is boosted with the return of experienced goalie Noah Maposa, who coach Tshosane said has brought stability to his team.
From the squad that played in the first leg, Zambia coach Herve Renard will only miss a suspended Alex Ng'onga for his sending off but the Frenchman may not have much of a headache in finding a competent replacement in his position.
A top candidate to step forward is Evans Kangwa who has an impressive scoring instinct. With him leading the attack, Botswana could be up for a harrowing afternoon.
The Nkana player possesses a better character at the face of goal than the burly Festus Mbewe and Bornwell Mwape, whom Renard prefers to twin up-front to bully the opposing defenders.
Back from injury, the witty Bruce Musakanya, taking the place of a suspended Ng'onga on the right flank, will surely keep the Botswana defenders on their toes with his deft runs and dribbles.
Moses Phiri, who has proved to be vital with his aggressive play to the squad coming from the bench, gives Renard more options to add to the front-line should they fail to get goals.
Edwin Olerile, Mompati Thuma, Tsepo Motlhabankwe and Obuile Ncenga will form the Zebra rear guard and try to frustrate the Chipolopolo attack and protect goalkeeper Maposa, who will stand in place of Michael Pepukani.
With so much faith in Mukuka Mulenga, Renard is likely to give the swift schemer game time despite carrying "slight" injury.  Sydney Kalume and Kondwani Mtonga should ably provide supporting roles as they anchor the midfield.
Their midfield battle will be against Alphose Modisaotsile, Jackie Mothatego and Moemedi Moathaping with Gift Moyo as an option for Tshosane.
Zambia's back four marshaled by skipper Bronson Chama, Christopher Mtonga, Jimmy Chisenga and Fackson Kapumbu have been playing with remarkable composure and confidence but may have to be extra-guarded today against first leg goal-scorer Lemponye Tshireletso and Tebogo Sembowa.
Zambia's goalkeeper Danny Munyau is not a big lad but he is brave, agile and alert.  He can be relied on to thwart any Botswana attacks that get past Zambia's back four.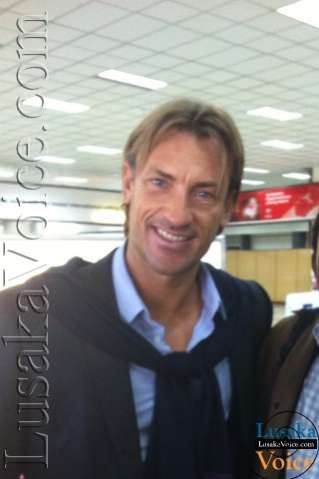 Renard led Zambia to the inaugural CHAN finals in Ivory Coast in 2009 and finished third after champions Democratic Republic of Congo (DR Congo) and runners-up Ghana.
Zambia did not qualify for the 2011 CHAN finals.  Botswana are yet to make an appearance at the event designed for players in local leagues across the continent.
Probable line-ups:
Zambia:
Danny Munyao, Jimmy Chisenga, Fackson Kapumbu, Bronson Chama, Christopher Munthali, Kondwani Mtonga, Sydney Kalume, Bruce Musakanya, Mukuka Mulenga, Bornwell Mwape, Evans Kangwa.
Botswana:
Noah Maposa, Tshepo Motlhabankwe, Edwin Olerile, Obuile Ncenga, Mompati Thuma, Bonolo Phuduhudu, Alphonse Modisaotsile, Jackie Mothatego, Moemedi Moatlhaping, Lemponye Tshireletso, Tebogo Sembowa.