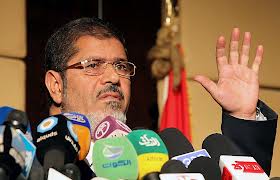 At least one supporter of Egypt's deposed President Mohamed Mursi was killed on Wednesday in Cairo during a protest march, a security source and the Muslim Brotherhood said.
The Muslim Brotherhood said on its website that police in civilian clothes had opened fire using live ammunition early on Wednesday on marching Mursi supporters, killing two and injuring others.
A security source confirmed one Mursi supporter was killed.
The Muslim Brotherhood has accused the Ministry of Interior of using thugs in plain clothes to attack protesters, but security officials have denied this accusation.
In a separate incident, a bomb exploded at a police station in a province north of Cairo early on Wednesday, killing one person and wounding 17 others, Health Ministry and security sources told Reuters.
Unknown assailants threw the bomb from a passing car in Mansoura, the capital of Dakhalia province, two security sources said.
Nine people were killed in Cairo on Tuesday in clashes between opponents and Islamist supporters of Mursi who was toppled by the army earlier this month.
MORE ON [SOURCE]