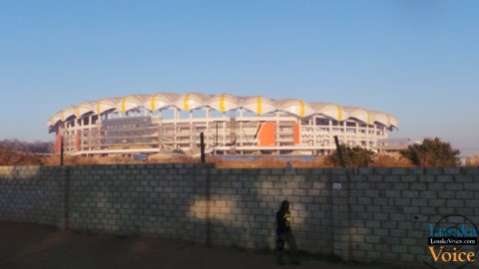 Govt hailed for changing Stadia's name
Lusaka, July 13th, ZANIS—Soccer fans have commended government for reversing its decision to rename the new stadium under construction in Lusaka from Gabon Disaster Heroes National Stadium to Heroes National Stadium.
Chipolopolo Soccer Fans Association (ZSFA) Chairman Yotam Mwanza said the shift clearly shows that the Patriotic Front (PF) government values the concerns of all Soccer lovers in the country.
ZANIS sports reports that Mwanza said this in an interview in Lusaka, today.
He said that the sports fraternity in the country is convinced that the PF is truly a listening government that accommodates all substantial views of the Zambians.
In Kitwe yesterday, Sports Minister Chishimba Kambwili announced that with immediate effect the ultr- modern stadium being built in Lusaka was renamed Heroes National Stadium from 'Gabon Disaster Heroes National Stadium'.
Kambwili acknowledged that when the stadium was given the name as 'GABON Disaster Heroes National Stadium' all Zambians were obliged to air their different views.
Meanwhile, Mwanza has advised the Chipolopolo technical bench to ensure it comes up with a formidable side that will beat Mozambique in tomorrow's COSAFA quarter final match at Nkana stadium in Kitwe.
Mwanza said it will be embarrassing for the Chipolopolo Boys to be booted out of the competition at an early stage saying the move will derail the morale of the fans.
Zambia tomorrow takes on Mozambique at in the second game at Nkana stadium in Kitwe while Angola takes on Lesotho in the first game at the same venue.
In the other quarter final match, Namibia today faces the Bafana Bafana of South Africa while Malawi will take on Zimbabwe in the second match at Nkholoma stadium in Lusaka.