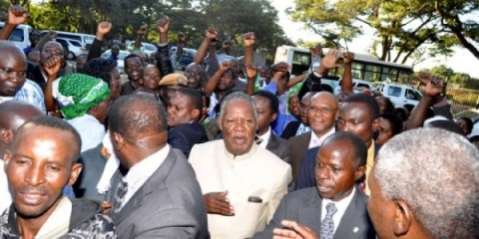 President of the Republic of Zambia will tomorrow [Friday, May 17, 2013] lay a
foundation stone for the construction of the Palabana University.
This is barely two weeks after the Head of State laid a foundation stone for the
construction of Chalimbana University.
President Sata says the birth of Chalimbana and Palabana universities will shortly be
followed by the upgrading of infrastructure in other universities that have been created
so far.
"I am proud to announce that government has already completed the transformation
of the Nkrumah College of education in Kabwe into a fully fledged university of Social
Sciences. Government has further completed the transformation of the Copperbelt
College of education in Kitwe into a fully fledged Mukuba University of Natural
Sciences," President Sata says.
"The establishment of these universities underscores the PF government's determination
to increase access to tertiary education especially for our young people who are
currently competing to go to the only three public universities, being the University of
Zambia, Copperbelt University and Mulungushi University."
In addition, the President says government is completing construction works at the
Robert Kapasa Makasa University of Science and Technology in Chinsali district in
Muchinga province.
President Sata says government is determined to establish a university in each of the ten
provinces.
"It is with dismay that regardless of the growing population, Zambia has for the past 49
years of independence, lagged behind in the expansion of tertiary education especially
at university level, due to the limited number of universities in the country. It is for this
reason that the Patriotic Front (PF) government is determined to change this scenario,"
the Head of State says.
Issued by:
SPECIAL ASSISTANT TO THE PRESIDENT FOR PRESS AND PUBLIC
GEORGE CHELLAH
RELATIONS