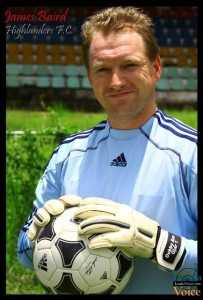 1. How long have you been playing the sport?
I have been playing sports since i was mabye 5 or 6 but as a professional since aged 15 where i played my first senior game with Scottish Div 1 side Alloa Athletic.
2. What is your most memorable first game?
There is so many but either being in the Alloa Squad that won division 2 in Scotland although i was very young or my very first ever game as a goalkeeper when i was 11 and our goalkeeper broke his fingers and i had to go in goal i did and had a very good game and was asked from then on to be the teams goalkeeper. That was with local side Broxburn colts 
3. How do you balance work and love for Soccer?
Soccer or Football as we call it has always been my work, I just have to balance that with my family responsibility which can be challenging
4. What is your training schedule like? Do you practice every day?
In my prime i trained 3-4 times daily and mostly 2 sessions on the field a gym session and a swimming session . This would be 6 times a week. Now as i am Older and have no club and mostly concentrating on coaching i train maybe once a week.
5. What do you do on your off time? You enjoy shopping. What are your
favorite stores?
I like to relax and spend time with my family(especially as i Have a baby on the way) , teach others the bible and I do love shopping, i love buying new clothes and sports gear. My favorite stores are  TK Max, all sports stores and as we having a baby baby stores now.
6.  Who is the sports icon that has influenced you the most?
 I have a few the biggest would be David Beckham his professionalism and character influenced me a lit, Also my coach and friend and ex Scottish international Henry smith and Rangers and Scotland legend Andy Goram.
I support Rangers FC in Scotland.
8. What is your routine non-soccer life and hanging out with your
friends versus when you're playing a game?
Mostly now its family but i do make time for my friends to relax have a beer and catch up at least once a week.
9. Do you practice a certain diet while you are training or during the
soccer season?
Again in my prime yes when i was playing although i had a fast metabolism so i could eat things i wasn't support to like friend food etc but that does catch up on your later in your career.
10. How did you decide to choose the last team you played for?
I researched them and they were interested in me so I was happy to help them.
11. Do you have a favorite team in other Sport like Rugby?
Not really although i like the Scottish team.
12. With so many games played, what has been your proudest
moment on the field?
Every game for me was a privileged and i enjoyed every one . You realize when you get older that each one could be your last so you savoir every moment.
I have my dream job as a player and as a coach
14. Do you have a special routine or superstition before you play a big
game?
I don't believe in superstition as i am a Jehovah's Witness.
15. How do you or would you  deal with being from home while traveling for
soccer? Do you bring mementos that remind you of your family to prevent
getting homesick?
I always take my wife with me  but keep pictures of my mum,dad, brother and sister etc  They are an inspiration to me too. We also talk every day.
16. Are you close with your teammates? Do you all get along? What is
the dynamic of spending so much time with other team members?
I am a team player so i make it my job to do so, I also try to help any way i can and get to know everyone individually especially s a coach. How can you trust player without knowing them you need to earn there trust and vice versa and then you truly become a TEAM. 
17. Do you have any advice for Teen LusakaVoice.com readers who wish to play
professional soccer?
Professional sports is a real wonderful career but it take time,effort and a lot of dedication. Its not always glamour and keep you away from your family. Setting a good foundation as a young player helps a lot and being humble so that when opportunities arise you have the right character to complete your task.

lastly I have had the wonderful opportunity to visit Africa many times but never Zambia Ive heard its beautiful and maybe just maybe one day soon I will get this opportunity as a Tourist or as a coach!