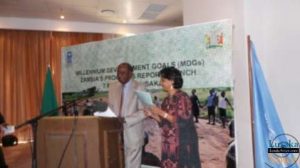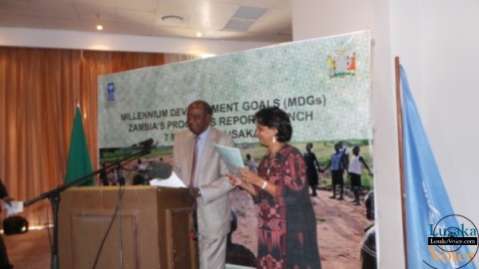 THE 2013 Millennium Development Goals report progress has been launched and the report indicates that Zambia has made significant progress on many of the MDG targets.
During the launch in Lusaka today at intercontinental hotel United Nation development Program resident representative Kanni Wignaraja disclosed during the presentation of the report that Zambia had made recent progress on the MDG targets although the country is till confronted by challenges that slow the overall pace of implementation.
"This is why we see the impatience often articulated by national and local leadership and civil society alike, for it is quiet unclear that this country can get to many more of its goals by the year 2015 deadline, extreme poverty is decreasing but at a very slow pace, it has declined from 58 percent in 1991 to 42 percent in 2010, Zambia will need significant reform and investment to meet this MDG goal of 29 percent by 2015," said Wignaraja.
She said Zambia had made significant progress in the gains made for HIV and TB prevalence, underweight children, access to ARVs and gender parity in addressing growing inequalities across the country, "The top 10 percent of Zambians share more than half of total national income. The bottom 60 percent share less than 14 percent of total income," states the report.
"Growing income, rural-urban and gender inequalities can mask and distort achievements, if it takes special measures such as affirmative action and minimum thresholds to bring more women into economic and political activity then that is what it takes," added Wignaraja during the launch of the report.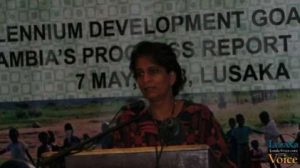 The 2013 report includes provincial data and analysis using the current census and living condition minimum survey (LCMS) together with global data sets and refers policy and institutional practices that have supported MDGs.
The report states that although child and maternal mortality rates are still high in Zambia, it is estimated that 38 mothers dies each month due to complications relating to pregnancy and childbirth in Zambia. Better educated mothers, more trained mid wives, early childhood immunizations and basic nutrition and proper use of treated bed nets and family planning; these are not rocket science, they do not empty the bank and yet they save and improve lives.
The report also states that the proportion of the population without improved sanitation worsened from 26 percent in 1991 to 67 percent in 2010 and land covered by forests in Zambia reduced from 59.8 percent in 1990 to 49.9 percent in 2010. According to the report attaining a cleaner greener sustainable development is based on a dedication to long-term environmental management that has at its very core of the sense of purpose and direction that can improve livelihoods and incomes while protecting and regenerating the environment.
The report also indicated that there was an increase in foreign direct investment (FDI) and trade in the last decade, it stated that Zambia has graduated from law income to a lower middle-income country, it also stated that Zambia has also removed trade barriers and actively embraced the multilateral trading system, public debt has also fallen from 179 percent of GDP in 2002 to less that 10 percent of GDP in 2007 largely due to debt relief.
And Wignaraja said her organization and the people of Zambia would like to see accelerated progress achievement of the MDGs take a social contract between government, civil society, private sector and international community.
Meanwhile Finance minister Alexander Chikwanda said Zambia has struggled on many fronts in the social and economic spheres to work towards the attainment of the millennium goals and still have a long way, and likely not fulfil the tall order of the MGDs by 2015.
"With the current difficulties on the commodity prices front, the going will be quite stiff, but we still fight on to better the lives of the people, we have to improve health and educational services, improve water supplies in both urban and rural communities, attend to physical infrastructure by way of roads, railways and water ways not to forget to invest highly in the power sector," said Chikwanda.
He said growth rates no matter embellished or glamourized have absolutely no meaning if unemployment and poverty especially amongst the young people remain intractably high.