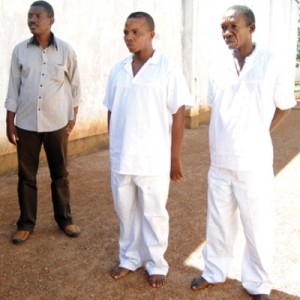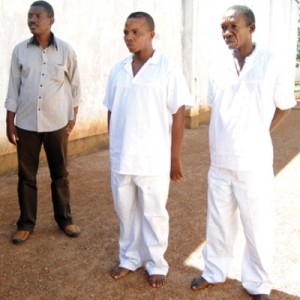 TWO inmates on death row who recently escaped from Mukobeko Maximum Security Prison in Kabwe have been arrested while the other is still on the run.
The condemned inmates escaped from lawful custody at the most highly fortified and heavily guarded prison in the country on February 13, 2013.
The duo was recaptured on Saturday around 01:00 hours in Chipata's Fenny village.
One of the recaptured fugitives was being harboured by the mother before the re-arrest.
Commissioner of Prisons Percy Chato disclosed the development at a media briefing held at Lusaka Central Prison yesterday.
Mr Chato identified the arrested duo as Shadreck Sada Phiri, who is on death sentence for murder and aggravated robbery, and Derrick Mwape, also to hang for the same offence.
"As I speak, two (re-arrested inmates) are back at Mukobeko Maximum Security Prison in Kabwe. They were taken there around 17:00 hours yesterday (Saturday)," he said.
Mr Chato said Phiri, 37, of Chipata, and Mwape, 33, of Mkushi, will be prosecuted because escaping from lawful custody is a criminal offence.
He said the search for the remaining escapee identified as Bernard Kapaso, 45, has continued.
"I wish to appeal to Kapaso to hand himself to law enforcement authorities. This is the right and only choice that is open to him.
"May I take this opportunity to thank members of the public for their cooperation leading to the recapture of the two prisoners. I also thank the police who have been and continue to be involved in this operation for their professionalism and patriotism. This is as it should be," Mr Chato said.
He advised the public against harbouring or providing any form of shelter to criminals.
"If your relatives who are in prison suddenly return home and claim they have been discharged, you should ensure you demand for a discharge slip," he said.
Mr Chato further warned inmates harbouring ideas of escaping from custody against doing so because they will face the full wrath of the law.
"To members of the public, we would like to assure them that we will not rest until Kapaso is brought back to prison where he lawfully belongs," Mr Chato said.
And Mr Chato said the recapture of the two prisoners will enable  authorities to establish what really transpired leading to their escape.
He said preliminary investigations indicate that the three snatched a metal bar from the clinic to the condemned section and took advantage of congestion and tampered with the door.
"So investigations are ongoing as we have to get to the root cause of the escape. We need to get a clear picture as to what really happened," he said.
Mr Chato said prison authorities want to ensure that the loopholes that exist during the handover of warders' shifts' are sealed.
He said security measures have also been heightened at all prisons in the country to prevent a similar situation from occurring.
"One of the measures we have instituted is that we have stationed an officer from the prison authorities to every prison to monitor the situation by ensuring that officers adhere to procedure," Mr Chato said.