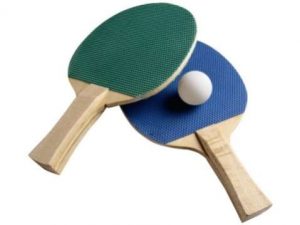 NG'OMBE PTA school has acquired its dominance in the national junior table tennis championship winning five out of the eight categories during the fourth edition tournament held at the Olympic Youth Development Center on Sunday.
Mercy Vuttah led the way for Ng'ombe in the girls' under-16 beat clubmate 11-5, 11-6, 11-9 in the final while Mwaiza Siame also beat clubmate 11-3, 11-3 in the boys' under-14 category finals and Ruth Mutailoni was a 11-7, 13-11 winner against Zelenia Mwale of Simon Mwansa Kapwepwe in the final.
In the girls' under-12 category Martha Banda of also of Ng'ombe beat Mutinta Sikaputa 11-6, 9-11, 11-9 in the final but in the boys' under 12 category it was an OlympAfrica all affair when Abram Tembo beat
Kennedy Siwakwi 11-6, 11-5 in the finals.
OlympAfrica also won the under-10 boys category when Wizzy Nyirenda beat Kebson Phiri of Spinners Academy 11-9, 6-11, 11-8 while Harriet Tembo of Ng'ombe scooped the girls' category when she beat clubmate Patience Mbewe 11-6, 11-3.
Choolwe Hamalambo of Ping-pong Stars scooped the boys' under-16 category when he beat Ng'ombe's Mwiza Siame 11-3, 11-8, 11-8.
In the doubles category for boys Choolwe Hamalambo and DannyNjobvu of Pingpong beat Danny Soko and Robert Banda also of Pingpong 11-7, 6-11, 11-9.
Meanwhile Zambia Table Tennis Association patron Haroon Ghumra said the turn out of participants had broken the previous record of 160 when 163 players took part in the tournament.
Ghumra said to have 163 young players taking part was absolutely wonderful.
"The record breaking turnout far exceeded our expectations. Our talent identification program to promote table tennis at the grassroots level is clearly bearing fruit," Ghumra said.
He thanked Best Juice and Autoware Limited for jointly sponsoring the tournament at a total cost of KR4,500.