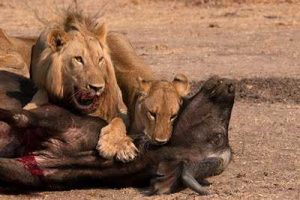 The Zambia Wildlife Authority (ZAWA) in Luangwa district has killed one lion amongst the five that have been terrorizing domestic animals in Chiendiendi and Kakaro villages.
A check at the ZAWA offices today found enthusiastic people having a glimpse of the dead lion which was killed on Sunday night at Chiendiendi village.
Sources at the ZAWA office told ZANIS that the lion, which was among four others that escaped, was killed as they were feasting on a cow that they had killed at Chiendiendi village.
The sources have warned people travelling between Chiendiendi and the Boma Township to be very careful as the four lions that escaped could be nearby within the area.
They, however, said ZAWA will intensify patrols in the area so that the loose lions could be killed in an effort to protect people's lives and their domestic animals.