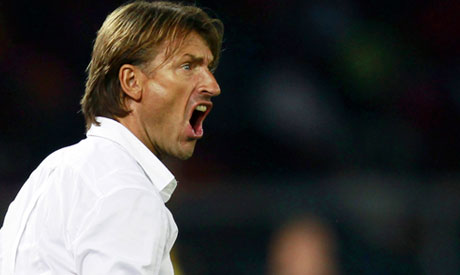 HORDES of Muchinga and Northern provinces budding soccer players have displayed promising skills that have thrilled national team coach Herve Renard and his technical bench.
Over 60 players from the two provinces converged enthusiastically on Kasama Stadium yesterday to showcase their skills in the technical bench's continued talent identification programme.
They did not disappoint, as Renard and his team observed, advised and took notes.
National team assistant coach Honour Janza said from Kasama yesterday that 22 players from Muchinga Province and 44 were from Northern Province assembled at the stadium as early as 08:00 hours.
They had two training games in the morning, and were scheduled to have two more games in the afternoon.
Janza said Renard is thrilled with the talent displayed.
"The trials here received an overwhelming response and we seem to have good players who might be included in the final team if they work hard," he said.
The players donned in national team jerseys were motivated to work hard and fight for the few available places in the national team that Renard will assemble for the Cosafa Senior Challenge tournament slated for July 6-21, in Zambia.
Northern Province Minister Obias Chisala watched part of the session.
"The trials here (Kasama) has the blessing of Government as seen from the visit by the provincial minister.  We also paid a courtesy call on Northern Province permanent secretary Hlobotha Nkunika yesterday (Monday)," Janza said.
Janza said the technical bench will select the final team at national trials to be conducted in Lusaka.
So far, the technical bench has held trials in Lusaka, Copperbelt, Southern, Central and Eastern provinces.
Today the talent search moves to Luapula Province.