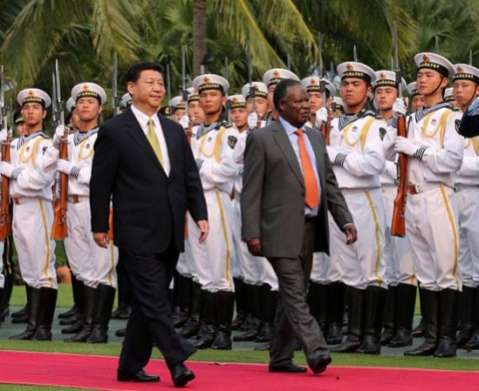 Chinese enterprises have brought investment and boosted employment and livelihoods in Zambia, President Michael Chilufya Sata told his Chinese counterpart Xi Jinping during their first official talks on Saturday.
Experts said China and Zambia are expanding the scope of their cooperation and their ties are a symbol of the deepening win-win cooperation between China and Africa.
Sata is among the more than 10 foreign leaders in China to visit the new leaders and attend the Boao Forum for Asia in Boao, Hainan province.
Meeting with Xi in the coastal city of Sanya, the Zambian president said China'sdevelopment provides important opportunities for Zambia and Africa.
"Zambia hopes China will continue helping it develop its agriculture, fisheries, animal husbandry, industry and commerce, as well as infrastructure to boost cooperation in economy, trade and investment," Sata said.
Zambia looks forward to enhancement through cultural and education exchanges and hopes to see more Zambian students going to study in China, he added.
President Xi said China gives great attention to the cooperation proposals made byZambia and will continue providing aid as capacity allows.
Beijing supports Chinese enterprises' participation in Zambian mineral, agricultural,manufacturing and infrastructure sectors, and hopes Zambia can create "morefavorable conditions" for Chinese businesses there, Xi said.
China encourages its enterprises to shoulder social responsibilities in the localcommunity and the independent development of Zambia is hoped for, Xi said.
The remarks were made against the backdrop of some Chinese firms having faceddifficult situations in Zambia in recent years.
Yao Guimei, an expert on China-Africa economic cooperation at the Chinese Academyof Social Sciences, said foreign enterprises operating in Africa "cannot succeed withoutthe support of local people and the community", and a greater contribution to the localeconomy and society is needed.
"China and Africa, meanwhile, have complementary advantages for each otherbecause both are undergoing industrialization and urbanization," Yao suggested.
Niu Xinchun, vice-president of the Institute of American Studies at the China Institutesof Contemporary International Relations, said Xi's remarks show that the China-Zambian relationship has entered an era with a more comprehensive sphere of bilateralcooperation.
"The signal sent is that the bilateral ties have been very different from pure financial aid- the advancing political relationship is yielding cooperation in various dimensions,which also shows Beijing's strategic consideration in handling China-African ties," Niusaid.
The meeting comes after Xi wrapped up his first trip abroad as head of state in Marchin which he visited Russia and three African nations – Tanzania, South Africa and theRepublic of Congo.
"I feel that Africa's overall momentum of peace and development is good, but it alsofaces various difficulties and challenges", Xi said during the meeting with Sata.
Xi told his Zambian counterpart that China has always viewed Africa as a good friend,partner and brother, and will enhance China-Africa unity and cooperation as one of thecornerstones of its foreign policy.
Beijing firmly supports Africa's efforts in "seeking solidarity, self-renewal, and boostingpeace and development", Xi added.
Qu Xing, president of the China Institute of International Studies, said there is somemisunderstanding in Africa about China's pursuit of mutually beneficial cooperation withAfrica, as some Western media have accused China of "exploiting resources" there.
China and African countries should "take some countermeasures to deal with problemsand the changing situation", and public diplomacy should be improved there, Qusuggested.
Besides Sata, Xi also met with Kazakh President Nursultan Nazarbayev, Peru'sPresident Ollanta Humala, Mexican President Enrique Pena Nieto and FinnishPresident Sauli Niinisto on Saturday.
Xi is to attend the Boao Forum for Asia on Sunday and make a keynote speech there.