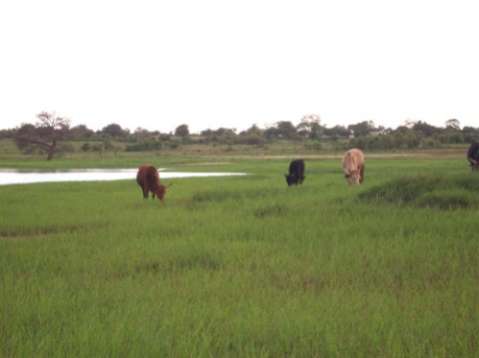 BOTSWANA is a reputable beef exporter and her exports are allowed in the European Union because the country is known to be disease free.
On the other hand, Zambia, a larger country, cannot export beef not because of small cattle population in the country but due to a livestock sector has continuously been ravaged by disease outbreaks.
The Zambia National Farmers Union (ZNFU) says Zambia's beef production has been plagued by disease outbreaks affecting its productivity and exports.
The country's cattle population stands at three million animals with 20.3 million hectares identified as suitable for livestock grazing.
But the disease outbreaks are a serious challenge because diseases such as foot-and-mouth and contagious bovine pleuropneumonia have continued decimating cattle at an alarming rate.
The Zambian livestock sector cannot meet local demand and this is why even imports are allowed because with a population of about three million animals, supply has failed to meet demand.
On the other hand Botswana's cattle population has fluctuated between 2 and 3 million and we think Zambia should be able to grow its herd to meet local demand and create room for exports.
If Botswana can export its meat products why should Zambia with a relatively similar cattle population fail to export?
We welcome Government's decision to put up measures that will prevent cattle diseases from spreading to areas that are currently disease-free as announced by Minister of Agriculture and Livestock Robert Sichinga.
The ministry is aware that some parts of the country have recently been hit by outbreaks of animal diseases and Government says it will not sit back and watch livestock go to waste.
In 2011 and 2012 there were various requests for imports of choice and standard beef and meet carcasses because of the failure by local beef suppliers to meet demand.
Once the government addresses cattle diseases as it has promised, this will enable it to lift the ban on the movement of cattle to encourage more competition and help traditional cattle owners to improve their standard of living.
With over 20.3 million hectares of land available for grazing, the country can grow its cattle population so that Zambia can start earning foreign currency from livestock.
As a country we have been talking about diversification for a very long time with very tangible results and addressing animal diseases will go a long way in helping the country to reduce its dependence on copper.
We welcome the decision by the Ministry of Agriculture and Livestock to enhance diversification by ensuring that Zambia's livestock sector becomes competitive and disease-free.
Commercial and small-scale producers are now investing in breeding stock by buying female animals due to the high beef prices which have gone up due to limited supply which has been failing to satisfy the market as demand increases because of a growing middle class.
The livestock sector was previously neglected but the current government wants to revive the sector through introduction of deep tanks and constant vaccinations to avoid diseases.
We are sure that with the introduction of such services, our livestock sector will start contributing to Zambia's gross domestic product to help grow our economy and reduce poverty.