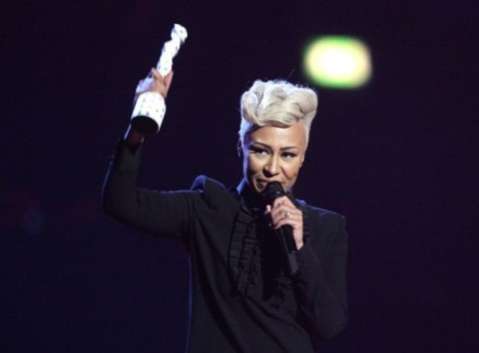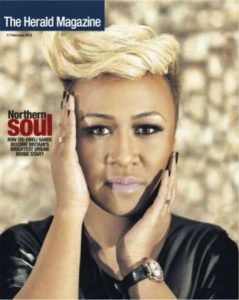 You are a 23-year-old from rural northern Scotland.
Piano has been your instrument, your songwriting tool, since you were 10; your voice has been remarkable for even longer.
A tattoo of artist Frida Kahlo – a typically single-minded, forthright heroine runs the length of your right forearm.
Some of the greatest names in modern pop have sung your thrustingly exciting compositions: Tinie Tempah (Let Go), Professor Green (Kids That Love To Dance), Tinchy Stryder (Let It Rain), Chipmunk (Diamond Rings), Wiley (Never Be Your Woman).
You've also written for divas big (Susan Boyle), small (Cheryl Cole) and medium-sized (The Saturdays). Your dad (from Zambia) and your mum (from Cumbria), who schooled you in music and encouraged your ambitions, are already proud.
Then there are the richly melodic, classically powerful, retro-futurist soul-pop songs you've written for your own debut album. Your love for – and understanding of – Nina Simone, Joni Mitchell and Lauryn Hill are obvious, loud and proud.
Then there's the stuff you did in your 'spare time': three-quarters of a six-year degree in medicine at Glasgow University. You specialised in Clinical Neuro-Science, "cause I really like all the brain stuff".
You are Emeli Sandé – who was actually born in Sunderland, where she lived until the age of four before moving to Scotland – and you also really like all the soul stuff, all the heart stuff, and all the emotional stuff.
Not many people knew it, but you were behind some of the key tracks of 2010.
Now she is the biggest female soloist in the UK – her debut album Our Version of Events now staying continuously in the top 10 for more than a year.
The recipient of two Brit Awards this year, and as someone who sweats the writing as much as the singing, you know it's about being contemporary, and timeless.
The broad and staggering talents of Emeli Sandé first attracted attention (good and bad) when she was eight. At primary school in the small Aberdeenshire town of Alford, she and her classmates wrote a song for a talent show. Her friends nicked all her ideas.
"That was the first time I thought, well, if it's worth stealing then it might be all right," she remembers with a laugh. "That was the first time I thought I might be a songwriter."
Age 11 and full of pre-adolescent fire,  Sandé wrote her first real song with a proper structure. "It even had a middle eight! It was called something like Tomorrow Starts Again. All my songs were about world peace and all these political issues."
By the age of 15, word had begun to spread about the precociously gifted teenager with the big-but-intimate voice from the middle of nowhere. Choice FM invited her to London to take part in their Rapology competition; Richard Blackwood had her down to MTV's Camden studio to sing gospel.
Then came Sandé's big(ish) break: her little sister filmed her at the piano, singing one of her songs, Nasty Little Lady. They sent the clip to Trevor Nelson's BBC Urban Music competition. Sandé was one of the winners, and was duly offered a record deal. But the newfound management that she had met via the competition advised her against the deal. Plus, other offers from other labels were soon coming in.
But, she recalls: "Doing the rounds of labels, I just didn't like it. I just thought, I'd rather be a bit more in control than this. It was hard at the time because it was so tempting. But I was doing my exams at school, then I got accepted into medicine at Glasgow Uni.
"It would have been too much of a risk to say no to medicine then go down to London and just be another singer."
The intuitive intelligence, self-awareness and empowered honesty that are apparent in her lyric-writing cautioned Sandé against jumping at the first taste of success. She went back home, finished school, then began her studies in Glasgow.
Relocating to Scotland's biggest city and its buzzing music scene, Sandé began supplementing her student income by playing piano and jazz standards in the city's hotels.
She tried to keep up with her songwriting while studying. "But I really had a lot of writer's block and my head was full of facts and exams. I found it really hard to experience anything to write about other than sitting in the library.
"But I was doing shows and everyone on the course knew I was a musician. My writing speeded up, though, as soon as I started going down to London and meeting producers there. Before, it was just me and a piano so the sounds I could make were quite limited."
Meanwhile, her mum had sent a CD of her songs to 1Xtra. Ras Kwame played it as part of his Homegrown Sessions. At the end of the year, the four best contenders were invited to play a showcase in Soho.
Via that exposure Sandé, who had been on medical placement in Madrid at the time, met producer/writer Shahid Khan, aka Naughty Boy. He had written for Ms Dynamite and Bashy.
As a writing partnership he and Sandé clicked immediately. "When we started together it took the music to something completely original. It took me out of my jazz piano niche, and it took him out of his urban scene. Then we started writing for pop people."
One of their first compositions was Diamond Rings, which Chipmunk's "people" loved. Sandé sung on the track, and it became Chipmunk's first Top 10 single in summer 2009.
The music industry took notice, and this time she was ready.
In March 2010, Virgin Records, impressed by her writing and her voice signed her as an artist. and Sandé decided to take time out from her medical studies. Our Version Of Events was the result – she was named British Breakthrough Act at last year's Brits, went on to global stardom, helped along the way by performing at both the opening and closing ceremonies of the Olypmics, and most recently she won two Brits, for Best Female Artist and Best Album.
Audiences at Newcastle City Hall tonight and tomorrow are in for a treat.