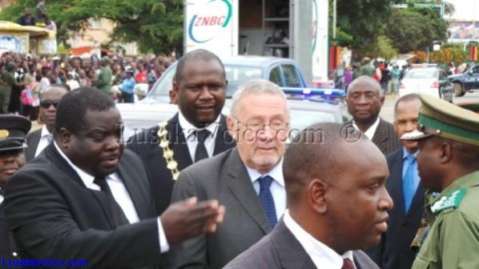 Vice President Dr Guy Scott has said it is possible that small medium enterprises, SMEs, in Zambia can also contribute effectively to the country's economic development.
The vice president's response was in reference to the Indian situation where SMEs are playing a critical role in enhancing that country's economic growth.
ZANIS reports from New Delhi that the Vice President was speaking   this morning when he left for Pune, in India where he is expected to visit SP Infotech for purposes of exploring the possibility of setting up an IT Park in the Lusaka South Multi-Facility Economic Zone.
This is expected to give impetus to economic development in the service sector.
SMEs in India have proved to be a viable economic tool that can create jobs and economically empower the local people.
The Government of India provides financial resources and training to the SMEs to strengthen their business activities which add value to that country's Gross Domestic Product, GDP.
And commenting on  the 9th CII-EIXM BANK Conclave on India Africa Project Partnership ,the  Vice President  said  the direct benefit of the results from the conclave are yet to be seen as the process of growing a viable, vibrant and sustainable economy calls for long term measures.
The 9th CII-EIXM BANK Conclave on India Africa Project Partnership ended yesterday with over 30 countries  participating in the meeting.
With a market of 2.2 billion people, bilateral trade between the two continents recorded US$ 57 billion in 2011.
The India Africa bilateral trade is targeting to achieve about US $90 billion by 2015.
While in New Delhi, Vice President held private talks with India's Prime Minister Manmohan Singh.
Dr Scott also toured the Angelique International Limited to discuss rural electrification and agriculture projects in Zambia.
Angelique International Limited whose motto is partnership for progress focuses on areas of development in power, irrigation and agriculture, water and Industrial projects.
Established in 1996, the organisation is present in America, Middle East and Africa.
Dr Scott also addressed the plenary during the official opening of the 9th CII-EXIM BANK Conclave on India Africa Project Partnership.
A special Zambia session where Minister of Commerce, Trade and Industry Emmanuel Chenda made a presentation on  Zambia's economic and investment climate attracted a number of delegates who filled the room to capacity.
More than 30 African countries participated in the 2013 CII-EXIM BANK Conclave on India Africa Project Partnership.
The theme for the 2013 conclave is dubbed Creating Partnership for South-South Cooperation where  Africa is the fourth largest trading partner for India and the most important investor in the continent.
The cooperation between India and Africa has grown in various sectors which are health, education, skill building, agriculture and infrastructure.
India's Direct Foreign Investment, FDI, to Zambia is rating at US $3 billion in different sectors  which include mining, tourism, transport, agriculture, health, ITC, energy, and service among others.
India's approach to development in Africa  focuses on trade and investment.
India has 28 states and Pune is in Maharashtra state where Mumbai is the capital city.