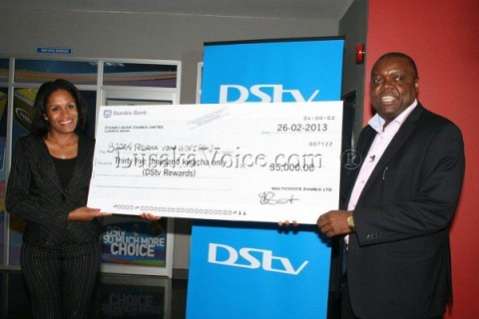 MULTICHOICE Subscribers in Zambia have begun to win with 2 subscribers winning KR35, 000 each.
The presentation that was conducted at the MultiChoice head office in Lusaka mass media by the General Manager Simon Bota  has since seen 3 subscribers winning in one year who have won themselves one yearfull subscription, From February 5 until April 10.
MultiChoice Zambia Public Relations Manager Marlon Kananda said that all the  DStv subscribers in Zambia are eligible to win cash prizes, regardless of the bouquet they subscribe to
"We are particularly pleased by the support we receive and wish to express our gratitude to our subscribers who continued to choose DStv for its diverse range of bouquets and channels, we're always searching for new ways to add extra value to our subscribers' lives whether through innovative programming, embracing new technology or expanding our operations network, we aim to be the best. This year we're consolidating all our subscriber loyalty competitions and initiatives into one portfolio called DStv Rewards." Kananda said
Kananda further said that there will be winners from Zambia because the company will be drawing winners from all its key markets, he urged subscribers to include their updated contact details on their DStv accounts.
"To the 2 winners of the KR35, 000 and the 3 winners of spot the box, 2013 has gotten off to a fantastic start for them and we hope that you are the next winner because there is so much more to give out," he said.