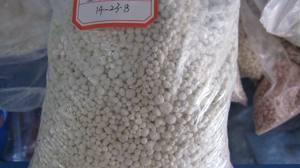 The controversial Niombo Investments Limited has finally sourced fertilizer to distribute to small scale farmers in Kapiri Mposhi district.
This is after Niombo Investments ran out of fertilizer in its sheds two months ago to give the famers in the 2012/2013 farming season in the area under the Farmer Input Support Program (FISP).
This came to light when Kapiri Mposhi District Commissioner, Beatrice Sikazwe visited the Niombo sheds today.
Last month Ms. Sikazwe expressed concerned at the running out of the commodity and the slow pace at which Niombo Investments was dispatching fertilizer to small scale farmers in the district.
Niombo Investment was engaged to supply 50100 X 50 Kg bags of Urea and 26,800 X 50 Kg bags of D-compound fertilizers under FISP in the district.
The Firm has also managed to distribute only less than 50 percent of the commodity to farmers in the district as at February this farming season.
The company has so far distributed 23,000 bags of urea and about 20,000 bags of D-compound only out of its contract total allocation leaving most farmers stranded.
Ms. Sikazwe ordered the fertilizer company to expedite the process of giving the farmers their fertilizer in order for them to promptly apply in their fields to avoid bad yields.
The DC however feared the area risks bad crop yields this farming season because of the farmers' setback in applying fertilizer.
And Niombo fertilizer shed Storesman, Billiot Tembo, assured Ms. Sikazwe that the company will conclude the process to dispatch the fertilizer to all the affected farmers by today (Tuesday).
Mr. Tembo said all the transporters engaged have been assembled to load and haul the fertilizer to all the farmers who did not receive the commodity in the district.
He apologized to the farmers over the delays in giving them fertilizer.
Mr. Tembo attributed the hold-up to damages of bags of fertilizer the company experienced due to excessive heat in the sheds.