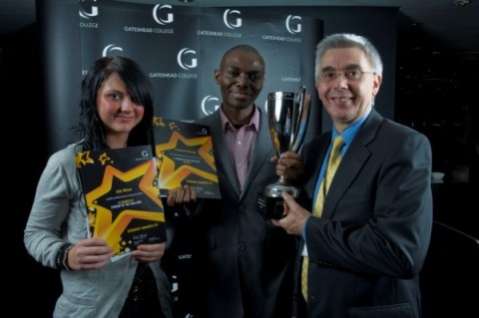 Emmanuel scoops top spot at college awards
A Zambian man who overcame personal upheaval to gain top marks on a travel and tourism course has won Gateshead College's Student of the Year Award.
Thirty-three year-old Emmanuel Mulenga, who lives in Mary's Court, Gateshead, received his award from college principal Richard Thorold at last night's ceremony held at The Sage Gateshead.
Emmanuel achieved outstanding grades to gain a Level 3 National Diploma in Travel and Tourism and is now on course to study for a Foundation Degree in Business and Management one year earlier than planned.
He enrolled on the college's travel and tourism course after coming to the UK from Zambia 2007.
While completing his studies he worked as a volunteer helping other people to settle in the UK and through hard work and dedication also secured a placement at British Airways' office at Newcastle Business Park.
He also participated in an overseas field trip which included an exchange visit to a Spanish college.
Emmanuel was awarded Student of the Year not only because of his determination to build a new life in Britain but also due to his commitment to studying which earned him top marks.
Assignments were handed in ahead of deadline while he was one of a small number of diploma students to exceed their learning goals and achieve the full ABTAC Advanced, a highly regarded travel industry qualification among others.
Picking up his award, Emmanuel said: "I am really happy to have been named Student of the Year. I couldn't believe it when my name was called. It was a huge shock and I am really thrilled."
Emmanuel's lecturer at Gateshead College, Helen Simpson, nominated him for the award.
She said: "Emmanuel is an outstanding student who has overcome problems that would deter most to show that through sheer hard work, dedication and enthusiasm anything is possible. Well done to him."
Receiving the Student of the Year runner's up prize was 17 year-old Julie Wilson from Deckham in Gateshead.
The CACHE Foundation Award in Caring for Children student was praised for turning her life around and realising that college could offer her a fresh chance.
Her hard work, reliability and determination saw her become an excellent role model and achieve distinction grades in all course assignments and final exam.
Gateshead College's Student of the Year Awards recognise those who have achieved outstanding success both personally and academically and shown a real commitment to improving their lives.
More than 100 students were nominated, spanning the spectrum of FE courses available at the college including 16-year-old apprentices, HE students, apprentices, adult learners as well as those studying for vocational qualifications through their employers.
Richard Thorold, principal at Gateshead College, said: "Congratulations to Emmanuel, Julie and all tonight's winners. You have all achieved so much, worked so hard and shown that anything is possible with dedication and effort.
"I would like to thank the tutors and course leaders, whose hard work and dedication enable our students to achieve so much and make Gateshead College an outstanding place to learn.
"I'd also like to personally congratulate you all. You have chosen further education for many different reasons and that is what is so great about these awards.
"It shows how people from all backgrounds, all with different hopes and aspirations can succeed through learning new skills. We are really proud of you all.
The awards ceremony was hosted in Hall One at the Sage, where four musical, dance and DJ performance from students from creative industry courses entertained the attending 600 students, guest, stakeholders and sponsors.