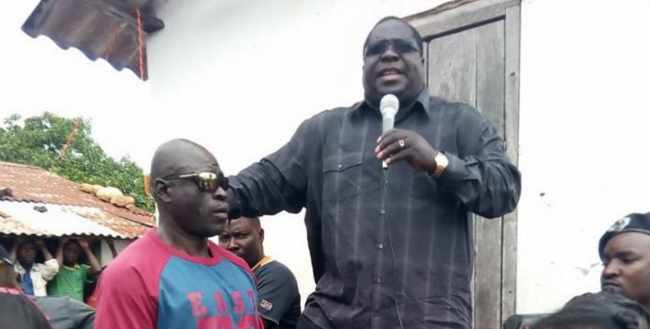 CHISHIMBA Kambwili has been appointed National Democratic Congress President. And embattled NDC secretary general Mwenya Musenge has been dropped from his position and replaced with his deputy Bridget Atanga. Kambwili, who has been NDC consultant since its inception in September 2017, was appointed President by the party's Central Committee, which sat in Lusaka yesterday. NDC vice-president Josephs Akafumba announced the resolution of the Central Committee at the party secretariat.
Akafumba said Kambwili would also be the party's 2021 presidential candidate.
"We have called you to this press briefing so that we can bring you up to speed with what we have discussed this morning. The national management committee of the National Democratic Congress herein called as Central Committee met and deliberated on the position of president. We unanimously proposed and agreed to invite Honourable Dr Chishimba Kambwili to take the lead of the National Democratic Congress. I am extremely happy that after persuasion, he agreed to take over the reigns of the party. Therefore, I wish to thank you sir in the presence of the press for having accepted our proposal," Akafumba said.
And Kambwili immediately effected changes to the party and immediately dropped Musenge from his position as secretary general.
"My discourse today and deliberation will be very short, extremely short; that I have accepted the endorsement from the national management committee herein called central committee that I become president of the National Democratic Congress," Kambwili said.
"Saying that it's my singular honour and privilege to accept the position of president of the National Democratic Congress with immediate effect and in consultation with central committee, the following changes have been made. Honorable Mwenya Musenge has been dropped from the position of secretary general and I have appointed, in consultation with the central committee, Mrs Bridget Atanga as new secretary general for NDC. And I want to warn Mr Mwenya Musenge, he should not masqueraded as secretary general for NDC."
Kambwili further appointed newly voted Roan member of parliament Joseph Chishala as a party's central committee chairman in charge of labour.
Atanga is a former PF secretary general.
MAST ONLINE