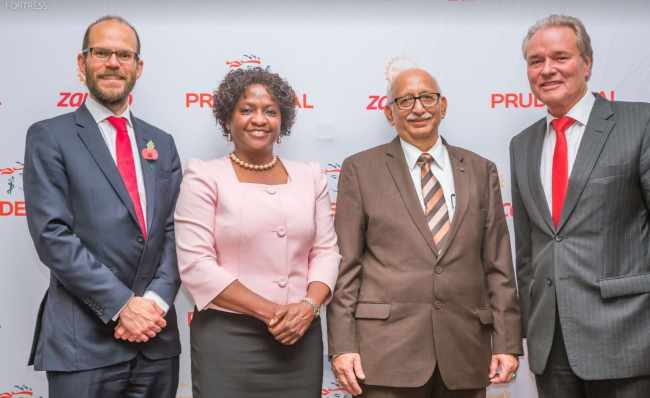 LUSAKA, 6th November, 2018 – Zanaco and Prudential Life Assurance Zambia have signed a long-term bancassurance partnership that will enable the two companies to collaborate in developing and distributing insurance solutions to customers through Zanaco's extensive distribution network.
This strategic partnership aims at maximising benefits for Zanaco's more than 1.2 million customers in its 69 branches across the country by leveraging Prudential Life Assurance's market-leading insurance products and services.
In the initial stages, this partnership will provide Zanaco customers with Prudential's diversified life protection and health insurance products that suit a wide range of customers, with scope for more insurance solutions at later stages.
In line with Zanaco's strategy of developing tailor-made value propositions that create more value for customers, this partnership will ensure customers are served with the right products and services that best suit their needs.
The partnership will also be vital in contributing to the development of a sustainable financial market and help drive the uptake of insurance products in Zambia.
Commenting on the partnership, Zanaco Managing Director & Chief Executive Officer Mr Henk Mulder said: "As a bank that caters for the interests of all customer segments, we are committed to ensuring that our customers get the full value of our financial services in a convenient manner by simultaneously providing them with banking, insurance and life assurance services. This partnership, with one of the world's most trusted insurers, will enable Zanaco to offer a wide range of options for our customers."
Prudential Life Assurance Zambia CEO, Mr Krishnaswamy Rajagopal, said: "Both Zanaco and Prudential are trusted brands known for putting their customers first. We believe that our two teams will work together to deliver our shared vision of providing an exceptional experience for our customers."
With a burgeoning middle class, Zambia has seen a growing demand for insurance products, which has opened up many opportunities for banks and insurers to bring more benefits to consumers.