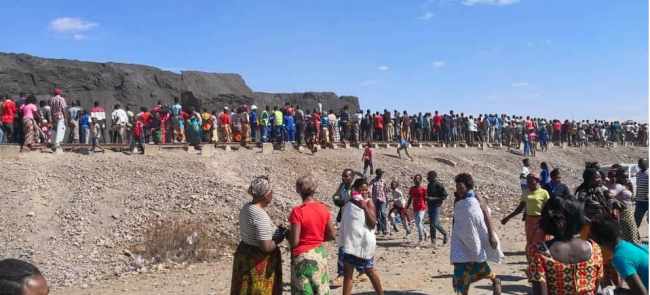 Vice President has asked the Ministry of Mines and Minerals development to ensure that the copper slug dumpsites known as 'Black Mountain' in the province are not hijacked by established businessmen.
Speaking when she addressed journalists at a press briefing held at Sheborne Hotel in Kitwe, Ms Wina emphasized that the copper dumpsites must be awarded to youths as a way of empowerment and further directed the Ministry to revisit other dormant copper slug dumpsites in the province and surrender them to youths.
Ms Wina emphasized that the law, laid procedures and guidelines must be followed before the youths can have access to the dumpsites and has assured Copperbelt residents that government will not disappoint them.
The vice President directed that youths must have access to all copper rich dump sites on the Copperbelt to boost job creation.
Mrs. Wina has also pleaded with mines on the Copperbelt to ensure big businesses do not hijack the operations of the slug dumps to the detriment of the youth.
The Vice President said the slag dumps popularly known us black mountain must be surrendered to the youths to enhance job creation in the region.
Mrs. Wina who has since returned to Lusaka was briefing the press in Kitwe on her just ended two-day official visit.
And Copperbelt Youth Chairperson Nathan Chanda has called for transparency and accountability in the distribution of resources at the ore rich black mountain where operations resumed yesterday.
Mr. Chanda said business at the black mountain must be done in an equitable manner to ensure all the youths' benefit from the mountain.
He said no levels of selfishness at the centre of operations at the black mountain will be entertained.
Meanwhile, PF Provincial Chairperson Steven Kainga praised government for reopening the slag dump.
And Chapamo group of companies said they will abide by the stringent measures put in place by government to manage operations at the mountain