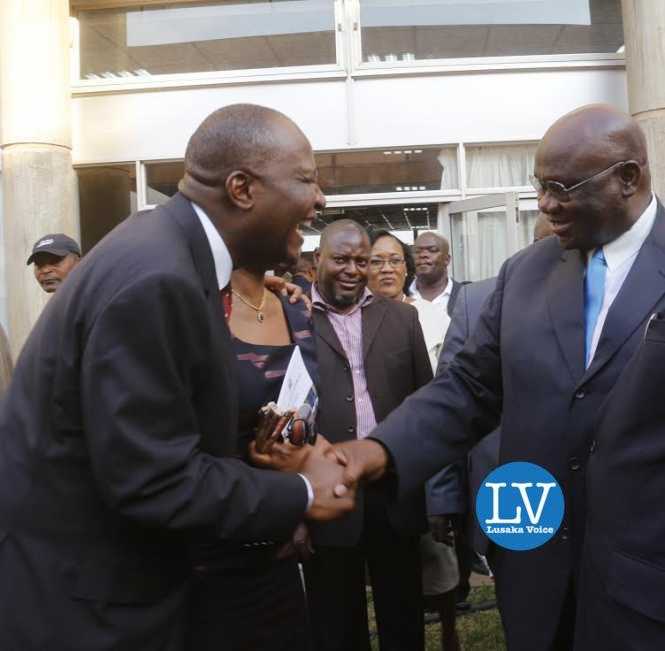 FELIX Mutati says he will use 50 per cent of his monthly salary to mobilise the former ruling party. And Raphael Nakacinda says MMD never used to rig elections through Vernon Mwaanga. Meanwhile, former president Rupiah Banda has renewed his MMD membership at a card renewal exercise in Chipata on Saturday. Launching the 2018 national card renewal exercise at Mpezeni Park Square in Chipata on Saturday, Mutati, leader of a faction of MMD, said his party was an independent.
"My fellow members, in order to kickstart the programme of card renewal, I as your president, I am going to make a contribution to the party. I will contribute 50 per cent of my monthly salary [ministerial salary] to support the mobilisation effort to the party, MMD. In order to grow the party, I am also declaring that we have a national amnesty so that those who were suspended, expelled et cetera come back, come back to MMD," Mutati said.
He said the MMD would also introduce a council of elders and announced adding that one of the elders, Michael Mabenga, was in attendance. Mutati said some people told him that MMD was finished in Eastern Province but was delighted to see a lot of people turning up for the card renewal exercise.
He said MMD still remained the strongest party in terms of structures, organisations and anchoring democracy.
"Ndamona ukutila ati chweechweechwee is not dead and chweechweechwee will never die. So over the last two days, when I saw the excitement of social media, it gave me the confidence that chweechweechwee will never die, otherwise why would they speak so much? It means that the MMD engine is running, MMD is relevant, MMD is powerful," Mutati said.
He said former president Rupiah Banda would have attended the launch but that had a national programme somewhere.
Mutati said MMD would remain relevant to the politics of the country.
"What we refuse as a party MMD is that we will not allow to weaken ourselves, to dismantle ourselves, to make an alliance irrelevant. We can only have value if we bring to the alliance a formidable MMD, a weak MMD is dangerous to the alliance. MMD is a party of value. By working in an alliance is not a sign of weakness, we have sacrificed a party MMD for the interest of the people. We shall always put the people of Zambia first and MMD comes second," he said.
Mutati said he was grateful to serve in the PF government.
"Let me say very openly to you that I am grateful for the honour and privilege that was bestowed upon me not as Felix Mutati but as president of MMD to serve in the government of President Edgar Chagwa Lungu. I am working and doing my best in cabinet with one singular principle that what matters is to make Zambia better and nothing else," he said.
Mutati said he was part of the cabinet and that he must be able to contribute through cabinet and not for him to stand on the anti-hill and do gymnastics and show that he was clever.
" My job is to bring the values of MMD to be debated and dealt with within the context of cabinet ngati mwaona ziii sikuyopo. So ngati mwaona ziii simantha iyayi (if you hear silence, it's not fear) it's because I work inside. You have said to me it is important to be humble, to be patient and to work hard, speed kills! So it doesn't matter what anybody says, Mutati and President Lungu are like simcard and phone, we have to deliver for the people of Zambia," he said.
Mutati said leadership was ordained by God and it does not matter how much one fights, shout or insult because if God says 'you shall not rule', you will
not rule."
"Last month I attended a conference in Luapula Province and the youths were very categorical; they said 'we are not connecting with the youth, they said to us as politicians we are not listening to the youths. We have used the youth as instruments of disorder, instruments of political violence. The youth are worthy much more than that. The only thing which I ask from the youths, let's behave ourselves, don't drink beer, don't be talkative, you still have more knowledge, you are not leaders for the future, you are leaders of today, shaping the future," he said.
Mutati said the presence of the youth and women showed that the party was strong and firm on the ground. Earlier, Nakacinda, who is the faction's national secretary, said the party had just started its mobilisation. He said it was too early to be afraid of the former ruling party.
"This is just a skeleton of Eastern Province and we can't show a skeleton to the people. Let them just wait for us, we are going to add meat to the skeleton. These are just members from the structures," he said.
Nakacinda boasted that MMD does not only get votes because of the rallies since 1990.
"From 1990, we count MMD votes in advance, when we do card renewal today and the card renewal programmes that will be at district, constituency, ward going downwards, they bring reports to my office and keep them in the pockets then we count votes in advance. When we were in government, they used to accuse us that we used to rig elections, there was nothing like rigging elections. My predecessor, Honourable V. J. Mwaanga, who was supposed to be here, they used to accuse him that he was rigging elections. What he used to do that's what I want to do, to count votes in advance after card renewal," he said.
The launch of the card renewal was also attended by the two party vice-presidents Reuben Mtolo Phiri and Annie Chungu, Michael Mabenga,
Howard Kunda, Peter Kafunkha Phiri, Guston Sichilima, Rose Banda, among many others.
Former president Rupiah Banda had his card renewed in absentia and pledged K10,000 to the party and Nakacinda also pledged K10,000.
Banda resigned as MMD president after losing elections to Michael Sata. Nevers Mumba was then elected as MMD leader in 2012. However, in 2017, the Mutati group held a disputed convention in Kabwe to oust Mumba from the position. The matter is still in court.
At some point, PF cadres who were using a branded Land cruiser passed through Mpezeni Park Square to seemingly monitor what was happening.
THE MAST ONLINE