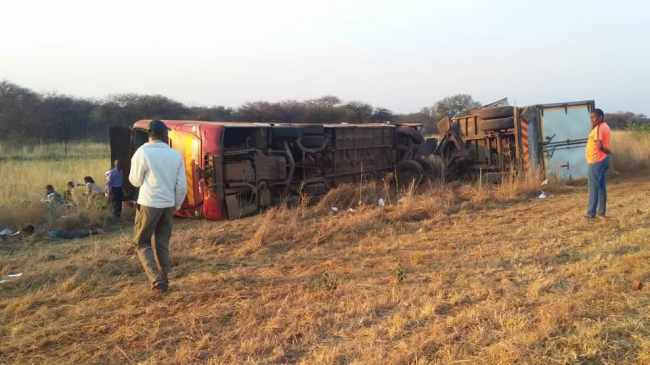 11 people dead in fatal Royal Bus Accident
Pretoria- 17th September 2018
Eleven people have died in a bus accident that occurred in South Africa on Monday morning.
Zambia's High Commissioner to South Africa His Excellency Emmanuel Mwamba who rushed to the scene of the accident confirmed.
"We have confirmation that eleven (11) people have died in the Bus accident. This include eigh(8) male and 3 (female).
" the bodies for the deceased have been transported to Mokopane Mortuary and the injured are at Mokopane Hospital"
Mokopane Hospital is a small town near Bela-Bela, 110km away from Pretoria.
Earlier Mr Mwamba stated that
"We regret to announce that a bus travelling from Kitwe, Coperbelt to Johannesburg carrying 50 passengers and five crew members has been involved in a fatal accident. This followed a tyre burst."
"The accident occurred near Bela-Bela 180km away from Polokwane and 107 km away from Pretoria."
"Six people are have been reported dead and others injured."
"We are in touch with the owners of the Bus service company and are coordinating efforts together efforts with the management ."
"Further we have rushed embassy staff to the scene of the bus accident."
"We will provide details later."
The bus is registered under Royal Africa Logistix PTY LTD, with its address;
125 Kerk Street Johannesburg, South Africa.
The bus has been identified as a Scania Marcopolo Bus Reg Number FT 82 BZ GP caring 50 Passanger with 5 crew members.
Times of Zambia