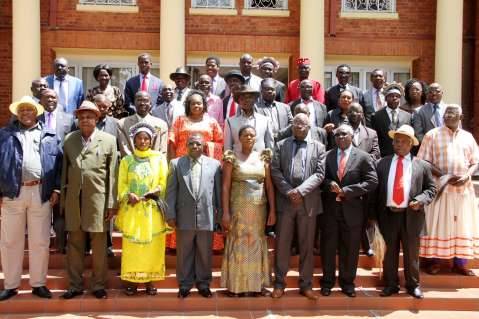 SENIOR Chief Ndubeni's royal family has demanded for details of expenses that Government incurred on Modi Chaile, the man it claims masqueraded and attended the recently held chiefs' "indaba" as a traditional leader.
In a letter dated August 13, 2018 addressed to Ministry of Health permanent secretary for administration and signed by family spokesperson, Zya Posta, the royal family said Mr. Chaile must be charged for obtaining money by false pretenses. Mr. Posta said due to succession wrangles that had rocked the chiefdom, there were two cases active in court and that there was no chief in the area.
He said presently, the chiefdom was waiting for the outcome of the legal processes, adding that Mr. Chaile attended the "indaba" as an imposter.
"We, the royal family members of Senior Chief Ndubeni are saddened by the acts of Mr Modi Chaile, posing as Senior Chief Ndubeni of the Lima people of Mpongwe district on the Copperbelt because there is an ex-parte order of injunction in the Ndola High Court, case No. 2018/HN/237 and an affidavit ex-parte notice of motion to commence contempt of court proceedings,
"But despite this injunction, Mr. Chaile has continued to parade himself as Senior Chief Ndubeni. We are asking the ministry to avail us with the attendance register and payment vouchers of monies paid to Mr. Chaile (for a meeting) which he was not supposed to attend because there is a court order restraining him from doing so," read the letter in part.
And when contacted for a comment, Mr. Posta insisted that the money that government spent on Mr. Chaile must be paid back because he attended the meeting illegally.
"Why should government pay that money to someone who does not represent anyone? Of course his attendance was engineered by the same people who are aiding him to continue masquerading as a chief. These are the same people who are creating confusion in the chiefdom and are disregarding court processes with impunity but justice must prevail.
"We are just surprised that the Ministries of Chiefs and Tradition Affairs and Health are not taking this matter seriously. We have been moving from office to office just to get expenses that government incurred in accommodating and feeding someone who is not a chief so that we report him to relevant authorities,
"Beyond being from the royal family, we are Zambians who want to see prudence in the management of the country's resources and our government cannot afford to spend on imposters," he said.
DAILY NATION