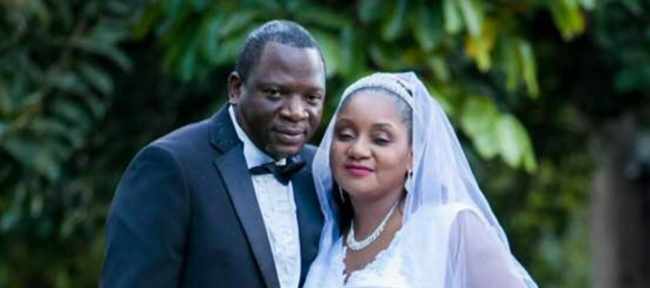 CONSIDER THE HAPPINESS OF YOUR CHILDREN TOO, KAISA, DON'T FOLLOW SUIT BY MARRYING DORA AS WELL (EASTERNERS LIKE COPY AND PASTE)
=========================
Whilst I was busying trying to sell ADEDE formula, which was aborted by Alex Mwansa, for my Mayorship, my younger bother Cosmas Chileshe, 41 years old, was marrying Maureen Nkandu at 53 years old, I but I promised to say something on this issue because I am an advocate of family unity and love.
I am not trying to disturb Cosmas from his honeymoon, neither am I jealousy that he picked the woman most of my peers admired when she was a ZNBC Newscaster, but I want confused men, from the East, like Kaisa Sulu to know that, this is not cool, otherwise tomorrow you will hear that Kaisa divorcing his wife to marry Dora Siliya at BIGOCA.
I heard Cosmas' the plea for Govt to keep him in his job,as he justified his actions that his video. This convenient Pastor, said that, his happiness comes first and he is now happy to serve our Country better.
This is issue of happiness is usually a reason cited by many people who leave their marriages for newer people that come in their lives. Like Cosmas, said, "Ichikalipa chumfwa umwine" (the pain is felt by the bearer), I will not argue on that.
However, while you are considering your happiness, do you think of the pain of others, such as your children? What about the woman (or man) you married and lived with for years, do you think of how she/he will be affected by your action and your public address damning her, as if she was nothing but pain in your life.
I am going into my 9th year after my divorce, which I never wished for, not because there are no beautiful women to tolerant my temper and radical way of looking at things, but because, I think of my children, including their mother, though we are done.
From my point of view, I think divorce is more painful to the children than their parents who simply walk away from a partner to look for a more interesting other one. But, for the children, divorce splits their WHOLE.
While children of divorced families remains physically WHOLE, they are psychologically and emotionally divided and it affects them for the rest of their lives. Children whose parents are together, have a sense of wholeness, security and purpose.
At times, we find it easy to disparage an ex, in public to justify our actions, but we should bear in mind, that the person we are talking ill of, is a mother or father of your children who look up to this person, in spite of your differences.
I will not wish Cosmas ill, but appeal to him to consider his children in his endeavor, because it is not long from now, that he, and Maureen, will need them. At 41, Cosmas will soon be going down the slope with his energies depleting and he may need his children to hold his hand, Maureen will definitely not manage, no matter the love, considering her age – it is simply natural.
Anyway, I hope Kaisa has heard this, and he will behave, because I will not hesitate to call President Lungu to fire him as I did on Cosmas, we need leaders with morality (though I am also not a measure of that). You can't be representing a Christian nation on the diplomatic level, yet your behavior is at variance with Christians morals and values.
TAYALI – NI TOUCH AND GO!
EEP – ICHALO BANTU!
2021 IS OUR TIME – WAPYA BAISA!