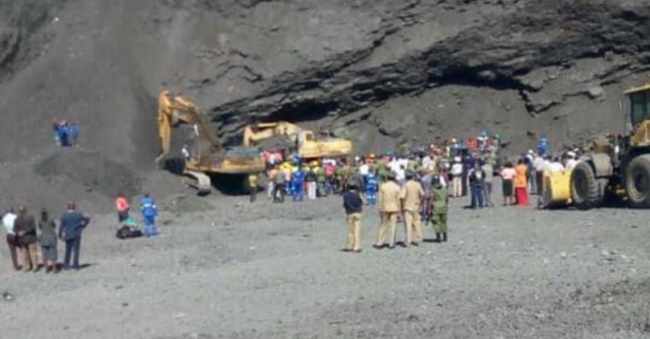 Lusaka, Zambia, 20th June 2018 – Patriotic Front (PF) Secretary General Hon Davies Mwila wishes to express deepest sorrow over the reported accident at the Black Mountain in Kitwe, Copperbelt Province which has so far claimed ten (10) lives of miners and seven (7) who injured while operating at the site as confirmed by the Police.
"The Patriotic Front wishes to send a message of condolences to the families of the victims following the tragic loss of miners' lives in an accident at the Black Mountain site this morning. It is with profound grief that we, in the ruling Patriotic Front received the news of the tragic accident which resulted in the loss of several lives and we are fearing for the lives of those that could have been seriously injured following the accident. On behalf of the Patriotic Front, I wish to convey my most heartfelt condolences to the families of the victims, friends and Copperbelt Province at large", Hon Mwila has said.
Hon Mwila has since called for safer mining practices and adherence at the advice being rendered by mining experts.
"As the nation would be aware, the Patriotic Front manifesto 2016-2021 centres on empowering citizens and encourages direct access to mineral resources and wealth creation while insisting on use of safer mining practices. Patriotic Front's greatest desire is for the small-Scale miners, majority of whom are youth, could partner with large mining technology management firms to enable them extract the minerals in more safer and efficient environments", he has said.

"In the moments of such agonizing pain, it is difficult to give comfort to the families and friends that have lost their loved ones. There may be those who might have died in the attempt to possibly save their co-workers and friends will be remembered as brave men who carried out their duty honourably and conscientiously. In the difficult moments, our thoughts go to the bereaved families and friends", he has said.
Issued by:
Sunday Chanda