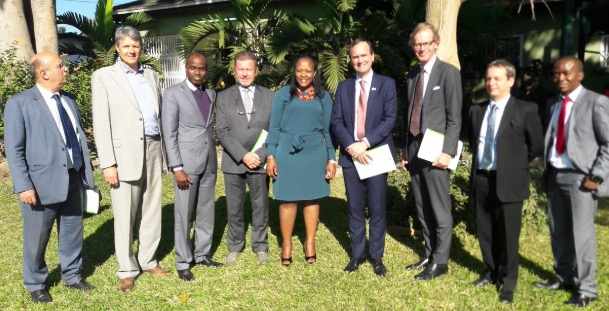 Zambia recently removed diplomatic status of Cuban Ambassador to Zambia Nelson Pages Vilas, who graced and spoke at the launch of the Socialist Party in Zambia.
British new High Commissioner, appears to be headed on the same path.
Fergus Cochrane-Dyet is no stranger to controversy.
The Diplomat was in 2011, expelled from Malawi for issuing critical, and undiplomatic remarks and tweets against the government of Republic of Malawi.
Since his appointment to Zambia, Fergus Cochrane-Dyet has tweeted strong remarks condemning the government and its officials on alleged acts corruption, political violence and bad governance.
On Tuesday, he led a delegation of European Ambassadors and pledged support for the Financial Intelligence Centre Director General, Mary Chirwa-Tshuma.
He tweeted;
"Admire work of #Zambia Financial Intelligence Centre. Met DG Mrs Tshuma with EU colleagues to discuss alarming 2017 trends report. #fightcorruption https://t.co/LZI2CBELpg"
Born on 16 January 1965, Crochen-Dyet does not wait to act as a diplomat or bother about the sovereignty of the country or its local laws.
Answering to critics who have accused him of profering undiplomatic remarks against the Zambian government, he said even the Queen was regularly insulted in the press.
"Anyone in UK is free to criticise/insult the Queen – remember satirical Splitting Image show? Outlawing criticism of political leaders itself undemocratic."
Last week he criticised President Edgar Lungu calling his government authoritarian and corrupt.
He tweeted;
"Authoritarianism can work (e.g. Singapore) with benevolent leaders, but these rare as hen's teeth. More likely, in Zambia as elsewhere, to mean corrupt dictatorship" https://t.co/AOWQA6B3ZH
Following the release of the Financial Intelligence Centre, 2017 Trends Report, Cochrane-Dyet said it was likely that government would not take the report seriously and that the political elite would likely close ranks.
He tweeted:
"Essential #Zambian Govt takes Financial Intelligence Centre allegations seriously?. Evidence of serious corruption. Risk that political elite close ranks to hide their complicity? https://t.co/4jv4ETz84N
After the Chilanga by-election, the British High Commissioner tweeted that voters in Chilanga were scared to cast their votes and most of them were savagely beaten.
The Police however issued a report to show that the Chilanga by-election was one of the most peaceful elections in recent times and that the skirmishes that occurred happened only at the end of election day.
In 2011, while serving as High Commissioner to Malawi, he was declared persona non grata and expelled from the country because of his usual controversial comments.
PF