JOURNALISTS Cosmas Chileshe and Maureen Nkandu married on Saturday, with Chileshe telling off critics of their union that: "give us the space".
And Maureen says what people say does not daunt her, stressing that she has the ability "to shut out the rubbish and focus on what's important in my life".
Chileshe and Maureen became topical on social media after uploading their intimate photos on Facebook in April. That act, exacerbated by information that Chileshe had 'abandoned' his family, triggered the government to recall him from Washington DC where he was serving as a press secretary at Zambia's diplomatic mission.
At a wedding reception at Hotel InterContinental in Lusaka on Saturday evening, a merry Chileshe said the event signified the purpose of his life.
"This is a momentous occasion. I want to thank God that this day has finally come to pass. I want to say my sweet Maureen, this is the day which I was born for. This now signifies the purpose of my living because this is my utmost happiness. This union brings hope first of all to the media fraternity that two journalists are coming together," Chileshe shared in an interview, adding that one ought to understand the role that journalism plays.
"A combination of my wife with her vast experience and my vast experience in the media and also in diplomatic circles, I think this gives much hope to journalists and also to the diplomatic community. So, watch the space now! Now that God has put us together, no one will put asunder. Our pen in our hands is mightier than the sword. We just want to do God's will, first of all, for our lives and also for this country. As journalists we belong to an institution called the fourth estate and we want to bring that flavour because often times the frustration that I receive as a journalist is when the story on the ground is not being told. Journalism stands for truth and we want to defend the truth at all cost."
He noted that the public heard what was said, on social media, about their relationship but that people never heard anything from the couple.
"It is this time that you are hearing from us and what you are hearing is that we are husband and wife. This is the truth probably that the devil wanted to suppress but the devil is a liar. The truth has set us free and nobody will stand our way. I would rather be with my wife and be happy and be in my own house than be with a wrong person with something that anybody would want to impose on me. I will not be part of that. This is Cosmas; this is my real love until death does us apart. So, my sweet Maureen, congratulations," Chileshe said, with apparent poise. Asked if public 'eyebrows and fingers' would not frustrate him, if it emerged, Chileshe emphasised that what mattered the most to him was his happiness.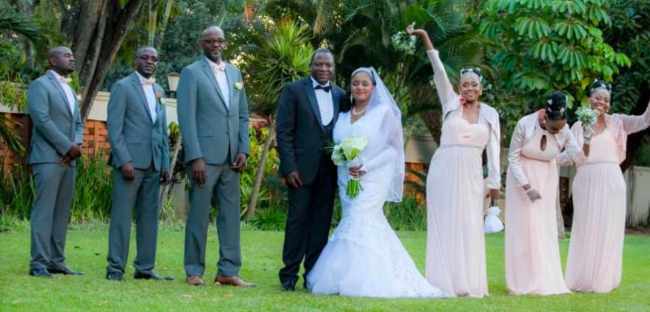 "My happiness is paramount and Maureen makes me happy and no other woman. So, I would rather belong where my happiness is. The criticism, I don't mind it. In my language, we say ichikalipa chumfwa umwine (pain is only felt by the bearer), nakoni kene kekala pamusambo untu katemenwe (even a bird sits on a branch that it prefers). I felt the pain and I had to look for where my healing was and I found healing in Maureen Nkandu," Chileshe said.
On whether or not his recall from diplomatic service frustrated him in any way, Chileshe answered: "Not at all!"
"I'm happy now and this is when I can offer my best services to this government, if they still need me. This is the time that I'm ready to work with my wife by my side. I didn't have a wife to help me in my duties [but] now I have got a wife. So, I'm ready to work. I thank President Lungu for the opportunity that he gave to me but I would also love this government to help me with what makes me happy and what makes me happy is Maureen Nkandu. So, my recall does not affect me – I'm still at the station. I'm still the press secretary. For your own information, I have appealed to that because the decision (to recall him) was made purely on falsehoods which were being championed by the Zambian Watchdog and perpetrated by known elements within the same administration that I'm in," he said.
"Those are some of the things that I would like to help President Edgar Lungu to expose the snakes that are in the PF bag because they will not help him. I'm loyal to this government right from the inception when we formed the Patriotic Front with my grandfather, His Excellency the late president Michael Chilufya Sata. I'm here to stay; nobody will chase me out of this government. I belong here [and] not anywhere else. So, I will continue serving – I'm still a civil servant and I love my President."
And Chileshe lamented that he could not serve in diplomatic mission "with a wrong woman".
"I had to make a choice in finding a right woman that will help me in my career and in my duties and I think I have done the right thing. If these people really want my service and the services of my wife, we are ready. But if they don't want us, where will we go? We are journalists. I have experience in both print and electronic media. I see a gap in the media fraternity and I feel that we should contribute in filling that gap. By God's grace, my wife has vast experience in electronic media. Our vision one day is to have a television station, our vision one day is to have a newspaper, our vision one day is to have a radio station because that is what we are. If I don't have a job, I have a pen in my hand. I will be writing stories like any one of you – I'm a journalist," Chileshe explained.
At this point, Maureen interjected and said: "We'll come and join you (the media) and we will be reporters and we will be happy doing that. You can give us jobs; we will be happy and we will do it with pride. We are journalists."
Chileshe further called on the media industry in the country to join him and his wife to celebrate their marriage.
"If you have to become anything, with the kind of pressure you face in your work, you need to have a wife that will understand you even if you are covering an assignment that ends at midnight. You are not going to be effective to have a wife who keeps [on] calling you when you are on camera. Then that person is not good for you. Thank God I have found somebody that is compatible to my career and to my aspirations. Now this is the A team that you see and give us the space," stressed Chileshe.
In a separate interview, Maureen described her wedding day as a great occasion.
"I really don't bother about what people have said – I have the ability to shut out the rubbish and focus on what's important in my life and what's important for me is my husband. This is a very special day because our friendship spans many years – it's not at the start of the media nonsense. We have actually been friends for 20 years and not just [ordinary] friends but also professional friends and friends in many aspects. So, it's a great occasion that we've finally decided to live together for the rest of our lives," Maureen said.
Asked if she had any words for Chileshe, Maureen affectionately said: "For my husband, I just have three words for him; I love you."
Meanwhile, Maureen's elder brother Dickson Nkandu reminded the couple to learn to accept the imperfections of one another.
"She has a lot of imperfections and you have a lot too. If you concentrate on the faults of one another, you won't enjoy your marriage. Love covers a multitude of errors. It's actually said that the best marriages are those comprising of two good forgivers and not fault-finders," said Nkandu.
Gezepi Chakulunta, who is Maureen's auntie, also urged the couple to be committed to each. Godfrey Chileshe Makasa called the event "the wedding of the year".
"Those of you who like writing stuff on Facebook about others, please know that we all have skeletons in our cupboards. The most important thing in marriage is love," said Chileshe-Makasa.
Maureen's first born daughter, Tamela, sang a special song for the guests and bride and groom.
Veteran politician Vernon Mwaanga and his wife, Edna, were among the guests.
[themastonline.com]