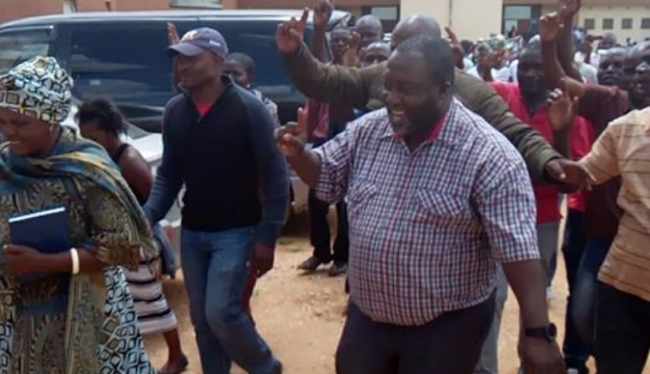 Kitwe. 29.05.2018.
The NDC is concerned with graft reports linking President Edgar Lungu to a newly registered firm Midways Express Limited.
As a party, we challenge President Edgar Lungu and his family to clear themselves from any dubious involvement with this firm.
We have received varying information that the first family might be using Midway's Express Limited as a front for money laundering activities.
This is a serious matter that relevant Government wings such as the Drug Enforcement Commission DEC should consider pursuing.
Midways Express Limited is linked to the President's daughter Tasila and a Somali national Abdhi Farah.
Midway's Express limited was registered in Zambia in November 2017.
According to records, this company registered with the Zambia Revenue Authority ZRA in February this year.
The growing number of corruption scandals linking President Edgar Lungu and the first family are indeed worrying.
It is for this reason that we are challenging the first family to exonerate themselves from such illicit acts.
The NDC has information that President Lungu has procured Three Hundred fuel tankers under Midway's Express Limited.
Thirty of the said tankers have already arrived in the country and were registered through RTSA Nakonde.
These fuel tankers are being used by the Lungu's for their filling stations dotted around lusaka.
As a party, we are not against President Lungu's daughter or family engaging themselves in genuine business.
What we are however sceptical about, is the abrupt accumulation of suspected ill-gotten wealth by the first family.
We are wondering where Tasila Lungu has miraculously acquired so much wealth in a short period of time.
We are challenging madame Tasila Lungu to avail the names of the banks that have provided her with finances to buy these tankers.
Apart from receiving a monthly salary of Three Thousand Five Hundred kwacha as Nkoloma ward Councillor, Tasila has no other source of income.
As far as we know, Tasila Lungu has no truck record of being a business person.
Further, the amount of money used to acquire the fuel tankers is not commensurate with President Lungu's income.
The cost of one fuel tanker, for instance, is over sixty thousand United States dollars.
We are left with no doubt but to conclude that the Presidents daughter might be using laundered money to run her venture's.
Further, we are urging security agencies to screen Abdhi Farah, the business associate linked to the Lungu's.
The fight against corruption that President Lungu keeps on talking about is a farce.
It is a farce in that the corruption scandals involving the Head of State are on the increase.
Equally, the NDC is disappointed with the selective approach in which the Anti Corruption Commission and DEC are handling corruption cases involving high profile officials.
We urge the ACC to be proactive and probe the many graft cases linking senior Government officials particularly State House.
We are concerned that the ACC, for instance, is still mute on the Swaziland land saga involving President Lungu.
The ACC has become moribund and we call for urgent reforms at the commission.
We are disappointed that the ACC has failed to act on reports involving the abuse of office by President Lungu involving the STAG deal.
President Lungu abused the authority of this office and committed treason when he signed the sovereign guarantee involving 500 million United States dollars in order for Zesco limited to obtain a loan.
According to records, Zesco limited only required 350 million u.s dollars for its recapitalization project and not the 500 million dollars President Lungu signed for.
We further challenge Zesco limited management to reveal to the country if at all the power firm received the 350 million dollars.
We challenge Zesco limited to equally explain how this money was expended.
Further, we are challenging the Secretary to the Treasury to give a lucid update on how the excess 150 million dollars from the STAG deal was diverted to.
Was this money banked in Zambia?
In this regard, the NDC is urging all well-meaning citizens to conduct massive countrywide protests against the Lungu regime.
This is on account of the massive corruption scandals involving State House.
Citizens should mount up protests because governance institutions charged with curbing corruption have disappointed us.
Issued by: Mwenya Musenge. Secretary General NDC.