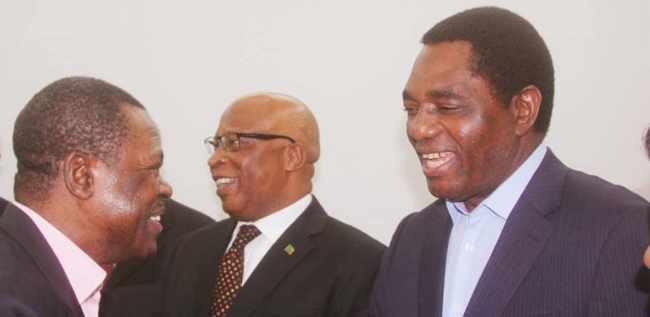 RAINBOW Party general secretary Wynter Kabimba says while his party is amenable to a political alliance, it cannot form an alliance with the UPND that believes that Zambia's national development can be attained by foreign investors or the NDC that has no policy framework but just anchored on "insults and Bemba proverbs".
And the former justice minister says National Democratic Congress (NDC) political consultant Chishimba Kambwili is a comedian whose "college of insults" he (Kabimba) would not want to enrol.
Meanwhile, Kabimba has reiterated that unlike the Socialist Party, the Rainbow Party does not believe in socialism that divorces itself from religion.
Kabimba, who featured on Prime TV's Oxygen of Democracy programme on Monday night, said he was at liberty to disagree with any political party's policies.
On why he seemed to have a soft spot for President Edgar Lungu but remained stiff-necked to fellow opposition leaders, Kabimba pointed out that he had a truth-oriented disposition.
"Firstly, I want to tell you that my character [is that] I stand for the truth and if the truth that I stand for favours even the person that I don't like, so be it. Secondly, there is no coalition or alliance amongst political parties – I have never attended a meeting of opposition political parties where we have said 'these are the commonalities of national issues where we should speak with one voice.' Each one of us is canvassing their own issues the way they see them. So, on that account, I am at liberty to disagree with PF and to disagree with any other political party in the opposition. I have got the right to say the policies being canvassed by the UPND or NDC or FDD or indeed whatever political party, cannot get this country out of the poverty doldrums in which it is. Now, by saying that I'm not attacking HH (Hakainde Hichilema), I'm not attacking Kambwili – I'm marketing my party to the Zambian people. So, where does the soft