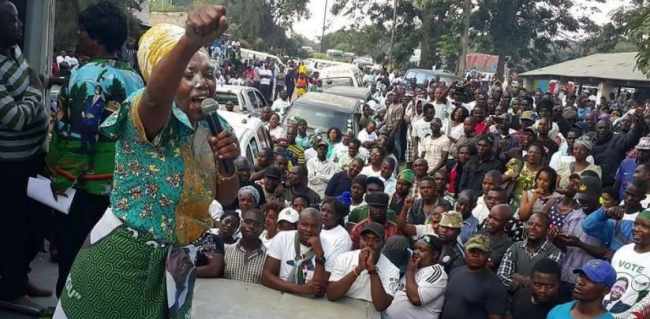 Meet the PF Parliamentary candidate for Chilanga constituency.
Mrs Maria Langa – Phiri is a Daughter of the soil in Chilanga. Happily married and lives in Chilanga Constituency.
She has lived there for over 15 years now.
EDUCATION BACKGROUND – Maria Langa finished her Form five at St Monica's in Chipata (Eastern Province).
She then trained as an Accountant at Evelyn Hone College and Nipa in Lusaka
CAREER/PROFESSION – Maria Langa worked for Barclay's Bank Zambia Plc for 11 years where she worked under the tutorship of Banker come Politician, Hon Margret Mwanakatwe (current Finance Minister) and Hon Myles Sampa (former Finance Deputy Minister).
She opted for early voluntary Separation from Barclays Bank Zambia Plc and embarked on Entrepreneurship which saw her open up her own Firms which include;
*Alendo Travel and Tours*, which was the first Zambian Firm to organize Tours to the Holy Land of Israel every October, she still does to date!
*Vwala Safety Distributors* which supplies Personal Protective Equipment (PPE) to most Mines and Contractors in Zambia.
Maria Langa is also an NCC trained and Certified Paver and does Construction works in Paving.
She has continued to play a major role in linking Zambian Businesses to the American market and vise versa under the AGOA facility with strong linkages in New York and Las Vergas USA.
She is also a recognized and respected Member of the Association of Women Entrepreneurs in the USA.
SOME OF HER WORKS IN CHILANGA.
Through her ability to engage the Corporate World, Maria Langa managed to raise Funds for Chilanga Primary School to enable the School re-roof the historical Infrastructure.
She also managed to build a Toilet Block for Game Market which was closed down during the Cholera outbreak hence facilitating it's re-opening.
She also fought hard for the People of Mapepe to be enlisted as Beneficiaries on the Social Cash Transfer Program of GRZ.
In an effort to ensure Nutrition for all in her catchment, Maria Langa has over the years organized Cooking Outings providing Food to the Old and underprivileged People of Chilanga Constituency.
HER VISION – She draws her vision in line with the PF Manifesto and declares that since Chilanga belt Zambia with Cement and Stones (Queries), it is time to build Chilanga.
PF has declared Chilanga as a District and she will ensure speedy implementation of Furniture and Infrastructure that comes with a District status.
She remains passionate of restoring Munda Wanga Botanical Gardens to it's former glory through Government/Private engagement. She envisions a replica/franchise of Disney World for Munda Wanga as is the case in China and Dubai.
Maria Langa has the #Heart, #Time, #Talent and she is the precise Vhicle in PF Party to drive the Developmental Agenda in Chilanga Constituency.
Maria Langa is a Candidate given to PF by the People of Chilanga.
Hence a massive yes vote for her and PF on June 5th 2018!!
By Thabo Kawana – PF Media Committee Member.(Edited)