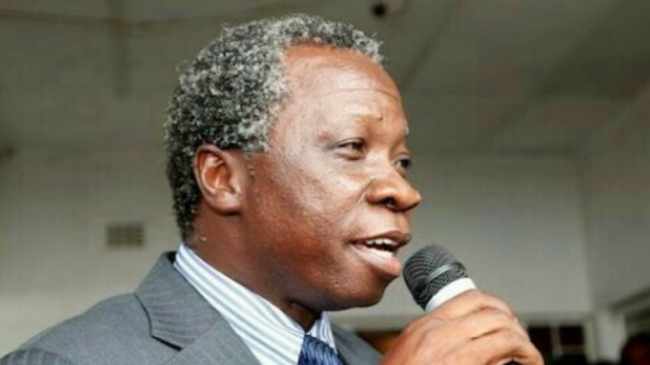 Several heavily armed police officers in riot gear on Tuesday afternoon raided offices belonging to People's Party President Mike Mulongoti along Reedbuck road in Lusaka's Kabulonga suburb.
Police have also picked up New Labour Party President Fresher Siwale and detained him at Police Headquarters where he was to be questioned over a National Registration Card (NRC) which is said to be of President Edgar Lungu.
Mr. Mulongoti and Mr. Siwale sensationally claimed that they have evidence that point to the fact that President Edgar Lungu is not Zambian and that the current Edgar Lungu in State House is an imposter.
Around 15:00 Hours on Tuesday, heavily armed Police officers stormed Mr. Mulongoti's office demanding to search the premises for the said NRC and some undisclosed documents.
They however could not proceed as Mr. Mulongoti was out of town and police only found a care taker, a Mr. Kasongo.
Police later proceeded to pick up Mr. Siwale and dragged him to his house where a search was conducted.
Mr. Siwale was then taken to Police Headquarters for further interrogations.
Mr. Mulongoti who disclosed the development in an interview said the whole search episode was unfortunate but that the duo is not shaken.
"We are not shaken, its them who are shaken. Why should they come to my office to look for Mr. Lungu's NRC as if I am his guardian? I don't keep Mr. Lungu's NRC, he knows where his NRC is," Mr. Mulongoti said.
He added, "Us we are on the streets, we have nothing to lose, it's them that stay in offices that have something to lose."
And Lusaka Police Commissioner Nelson Phiri said he was not aware of the search as he was out of the office attending a family matter.
Meanwhile, Mr. Siwale maintained in an interview hours before he was picked up by police that he has evidence to show that President Lungu stole someone else's identity.
Mr. Siwale also challenged those swearing that President Lungu was "what he says he is to swear an affidavit".
He stressed that he is not a mad person to make such kind of allegations against someone holding a high post without evidence.
"I am not a mad person to say he is not the one. I know what I am talking about and he himself knows what I am talking about, we both know what we are talking about, this one is Jonathan Mutawale," Mr. Siwale said.
He maintained that President Lungu lived at House number 1487 in Kwacha, Kitwe.
"The house up to now is known as kwa make Jona Mutawale. This one is Jonathan. 14001, Chimwemwe, that's where Edgar Chagwa Lungu grew up. I know what I am talking about, these are two different people."
He advised President Lungu not to take the matter of his identity lightly because he had evidence.
"President Lungu has already admitted. The past two months we have been calling him an identity fraud, he has not said he is not Jonathan Mutawale because he is supposed to say 'no, I am not Jonathan Mutawale'. The answer must come from himself and he must state that he is not Jonathan Mutawale and that he never went to Kaloko Primary School and that he never attended Masala Secondary School where he failed in form three. But he must know that we know that this one is not Edgar Chagwa Lungu," he said.
"He cannot play games, it's a dead end. If they think this is a laughing matter, they are dead wrong. He is an imposter he must just own up," said Mr. Siwale.
The New Labour Party President also urged Chief Justice Ireen Mambilima to explain what she knew about President Lungu's identity since she employed him at Legal Aid Board when she was heading the institution.
LUSAKA TIMES