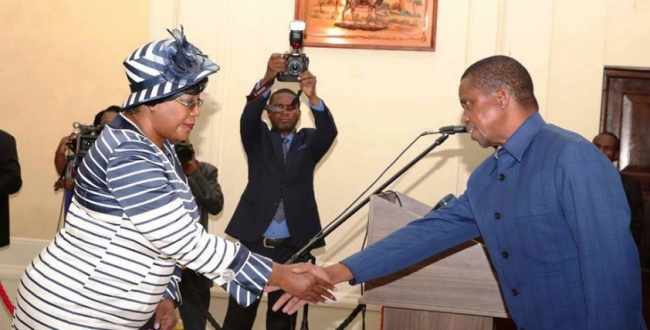 NEWLY-SWORN in Zambia's Ambassador to France Dr Christine Kaseba has come to the defence of President Edgar Lungu following queries about his nationality.
Dr Kaseba, the former first lady, says she has always known President Lungu as the same person who went to Mukuba Secondary School.
And State Counsel William Nyirenda says there is no credibility in claims that President Lungu is an identity fraud.
Chief's Mukuni and Hamusonde last week advised President Lungu to break the silence and free the nation of his parentage nightmare.
Politicians Mike Mulongoti and Fresher Siwale have raised a ferocious debate on President Lungu's identity, accusing the Head of State of not being what he claims he is.
Siwale, the New Labour Party leader, has asked Dr Kaseba to decline her appointment because "it is corrupt and meant to defeat the ends of justice over President Lungu's identity".
He said Dr Kaseba was one of the witnesses his group, which is challenging President Lungu's identity and nationality, intended to call at the next stage of the probe.
"At the same time, we would like to send word to Christine Kaseba Sata and warn her not to accept the appointment. Even if she has been sworn in already, let her resign the appointment because once she takes a further step, she will have committed corruption, she will be trying to defeat the ends of justice and also committing misprision of treason, which is failure to inform the State when a criminal act of treason has been committed," Siwale said.
"Because Christine Kaseba Sata and the late Edgar Chagwa Lungu, together with Kaizer Zulu's elder sister Joyce, grew up together in Chimwemwe (in Kitwe) and went to school together. So she must know that even herself we are asking her, is this the Edgar Chagwa Lungu whom you grew up with in Chimwemwe because she knows exactly who Edgar Chagwa Lungu was because she grew up with him and it's not this one (the President). She grew up with the father to Tasila, not this one (the President), so she must be aware that if she proceeds, she has a choice to go to prison. It's her choice, she is a professional. If she abets this crime by accepting a corrupt appointment, she must be ready to face the consequences."
He advised President Lungu not to take the matter of his identity lightly because he had evidence.
"The man [President Lungu] has already admitted. The past two months we have been calling him an identity fraud, he has not said he is not Jonathan Mutawale because he is supposed to say 'no, I am not Jonathan Mutawale'. The answer must come from himself and he must state that he is not Jonathan Mutawale and that he never went to Kaloko Primary School and that he never attended Masala Secondary School where he failed in form three. But he must know that we know that Christine Kaseba Sata grew up with Edgar Chagwa Lungu in Chimwemwe but this one is not Edgar Chagwa Lungu. Kaizer Zulu's elder sister Joyce, she is alive, he cannot play games, it's a dead end. If they think this is a laughing matter, they are dead wrong. He is an imposter he must just own up," said Siwale who also urged Chief Justice Ireen Mambilima to explain what she knew about President Lungu's identity since she employed him at Legal Aid Board.
President Lungu has since spoken on the matter, accusing those questioning his nationality of being mad.
The Head of State further said his identity issue had brought out embarrassing details of his childhood where those who knew him disclosed that he used to refuse to bath.
And Dr Kaseba told The Mast that: "There is no truth. The same President, Edgar Lungu, is the same person who was at Mukuba. And he was known by the same name. We knew him as Edgar Lungu. He was at Mukuba, I was at Mindolo Girls. The people who were in the same class with him, there is William Nyirenda, the lawyer in Kitwe; there is also Moses Malunda, the Rotarian, you can verify with them. If there were any other names, I don't know. For us at least when we were in Kitwe, we knew him as Edgar Lungu."
She added: "Only at campus (University of Zambia); he was at Mukuba, me I was at Mindolo Girls. As I said, abena Mukuba, those are the people who can verify if there were any other names (for the President) but this (President) is the same person."
When contacted over the matter, State Counsel Nyirenda said: "Yes, I was with him at Mukuba Secondary School. I was a year ahead of him but we were in the same school, not in the same class. He came to Mukuba in 1972, I went to Mukuba in 1971, so I was a class ahead of him. But I knew him very, very well in Chimwemwe, in Buchi."
Asked to comment on the claims that President Lungu was not Zambian, Nyirenda said: "No, there is no credibility in what they are claiming that he is a fraud, that he got someone else's credentials and stuff, there is no credibility. Edgar Lungu was at Mukuba Secondary School, he was one of our bright students at Mukuba Secondary School. He went to university, I was with him at university, he was in the same class as Wynter Kabimba at university. That I can tell you, I was at Mukuba Secondary School with Edgar Changwa Lungu. I was his senior by one year. I left in 75, he left in 76, there is no secret about that. In any case, why are we wasting so much time on some useless matters? Why? We should be focusing on national issues really, developmental issues, you know, than to allege that Edgar Chagwa Lungu got those credentials which belonged to someone else, no, no no. That's very unfair to the man. He was at Ishuko Primary School, Chimwemwe A for primary, Ishuko Primary for Upper Primary. You in our time there was lower primary and upper primary, so you did lower primary up to grade 4, upper primary grades 5, 6, 7, then he went to secondary school, those are verifiable facts."
He also said the President was the same person who was at Mukuba Secondary School.
"I can tell you he was a tall, slim fellow, very light in complexion. And there are several people, you can call some people in Lusaka, Simata Simata has already spoken. In my class, there was Moses Malunda, he was the head boy, I was his deputy and Edgar Chagwa Lungu was one of our prefects when he was in Form Four. There are several other people, who would you know? Here in Kitwe, there are several who were with him at the same school," said Nyirenda. "There is no credibility to the fact that he did not to go Mukuba…no no no. I was with him for many years, for four years at Mukuba, that's a long time. I was privileged I was deputy head boy. You can quote me, I have mentioned some other people who were at Mukuba, phone them."
But Siwale said all those swearing that President Lungu was "what he says he is should swear an affidavit for accountability".
"Because I am not a mad person to say he is not the one. I know what I am talking about and he himself knows what I am talking about, we both know what we are talking about, this one is Jonathan Mutawale," insisted Siwale, saying the President lived at house number 1487 in Kwacha, Kitwe.
"The house up to now is known as kwa make Jona Mutawale. This one is Jonathan. 14001, Chimwemwe, that's where Edgar Chagwa Lungu grew up. I know what I am talking about, these are two people."
THE MAST ONLINE