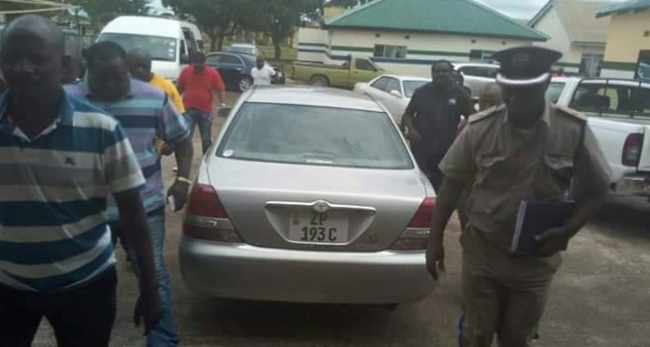 "Hon Chishimba Kambwili was on radio where he started with his interview well but later began uttering derogatory statements against the Head of State. Three officers went there and spoke to the station manager to have the interview discontinued as it had potential to cause a breach of peace. Dr Kambwili was taken to police where he was advised and left to go."
*Police Spokesperson*
*Esther Katongo*
Media Freedom in Zambia under threat.
Mansa. 13.04.2018.
It is extremely regrettable that media freedom in Zambia under the Pf regime is under intense and severe threat.
The political environment for journalists in Zambia is not conducive and slowly degenerating.
The media environment is becoming unsafe and increasingly hostile lately.
The Edgar lungu regime will do everything possible to mime, gag, harras, manipulate and intimidate the private media.
Media outlet's that are featuring opposition political grouping's have been misunderstood and are now target's of state manipulation and victimization.
Private media outlet's are now perceived enemies of the state.
The Pf regime is jittery over its growing unpopularity and will do anything possible to ensure that media outlets covering independent voices are ridiculed at every cost and opportunity.
As NDC, we are disappointed that the Pf regime has implored medieval tactic's and attempts to try and manipulate and operations of private media houses.
Furthermore, we find it absurd that this regime wants to fight proxy political battle's using the media.
Useless, baseless and careless attempts by this regime to gag, harass, intimidate the private press in carrying out their duties are nothing but a violation of media rights and freedoms.
As NDC we take strong exception to what has happened in luapula province today.
The decision by state police to curtail a radio interview featuring NDC consultant in mansa is purely absurd and an act of desperation.
Police in Mansa have not given an valid reason on why Dr. Kambwili's interview on k FM was stopped.
The only reason police have advanced is that the NDC had no police permit to warrant the sanctioning of the said radio interview.
This is ridiculous, flimsy and noting but an affront on media rights and freedoms.
Journalists do not need permission from police for them to conduct interviews.
Dr. Kambwili was on k FM radio to sale the ideologies of the NDC and nothing else.
The Electoral Commission of Zambia ECZ has opened campaigns in 16 wards where local Government elections are being held countrywide.
Since the political campaigns are open, there's no need for state police to harass Dr. Kambwili for offering a radio interview.
Its unfortunate that the Lungu regime is going out of extremes to ensure that Dr. Kambwili is persecuted in every thing he is doing.
As NDC, we want to warn the Pf to leave out the private media in their political skirmishes.
Journalist should be allowed to execute and conduct their work in a free manner and environment.
Abusing and assaulting media houses simply because they allow divergent voices is unjust and uncivil.
This should never be allowed to happen in our democracy.
The NDC will not stop speaking out on the need for media freedoms and reforms in this country.
Members of the press are partners in development and should never be drawn in political battle's.
The act by police in mansa today should be condemned by all well meaning citizens and interest grouping's.
Issued by: Mwenya Musenge. NDC secretary General.