PRESIDENT of the Republic of India, Shri Ram Nath Kovind, has arrived in Zambia, for a three- day State Visit.
It is the first time in three decades that a President of India is undertaking a state visit to Zambia.
The Presidential plane touched down at Kenneth Kaunda International Airport- KKIA at 14:26 hours Zambian time, April 10th
President Kovind is accompanied by First Lady, Savita Kovind, senior Government officials and a business delegation.
He was received at KKIA by President Edgar Lungu, First Lady Esther Lungu, Patriotic Front – PF Secretary General Davies Mwila, Cabinet Ministers, Service Chiefs, Senior Government officials, heads of missions accredited to Zambia and Zambia's High Commissioner to India Judith Kapijimpanga among others.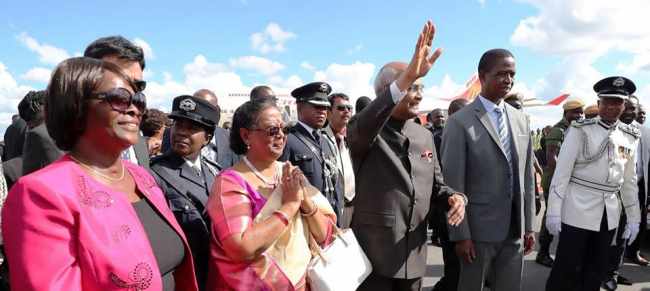 President Kovind inspected a full guard of honour and was accorded a 21 gun salute.
Zambia has enjoyed excellent relations and cooperation with India with support accorded to Zambia on a bilateral level as well as under the framework of the India- Africa Forum Summit, in the fields of energy, health, infrastructure, capacity building, agriculture and trade among others.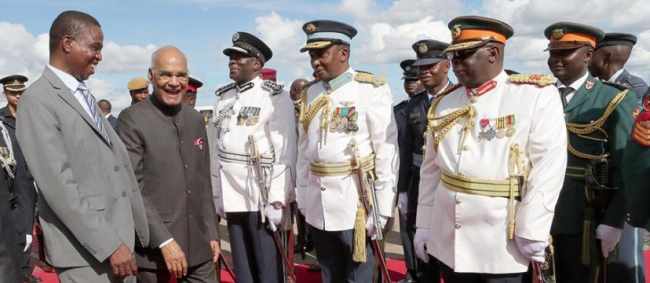 Private investment in Zambia by Indian companies currently stands at over USD 5 Billion in sectors such as mining, infrastructure, manufacturing and pharmaceuticals.
There has been a steady increase in bilateral trade which stands at USD 1.2 Billion from April 2017 to January 2018.
India is an important and strategic partner in the quest of the Patriotic Front- PF Government to deliver development to the Zambian people as articulated in the Seventh National Development Plan.
During the state visit, the two Heads of State would hold bilateral talks and witness the signing of several Memoranda of Understanding (MOUs) between India and Zambia aimed at enhancing cooperation in various sectors including the establishment of Entrepreneurship Development Institute in Zambia, taxation, visa exemption on diplomatic passports and judicial cooperation.
President Kovind and President Lungu will also officiate at a ground breaking ceremony of the decongestion of Lusaka roads which would result in fly over bridges.
India and Zambia will also sign a USD 40 Million Agriculture Mechanisation agreement during the visit.
The Indian President leaves Zambia on April 12, 2018.
This is contained in a statement made available in Lusaka by First Secretary Press and Tourism at the Zambian Mission in India, Bangwe Naviley.